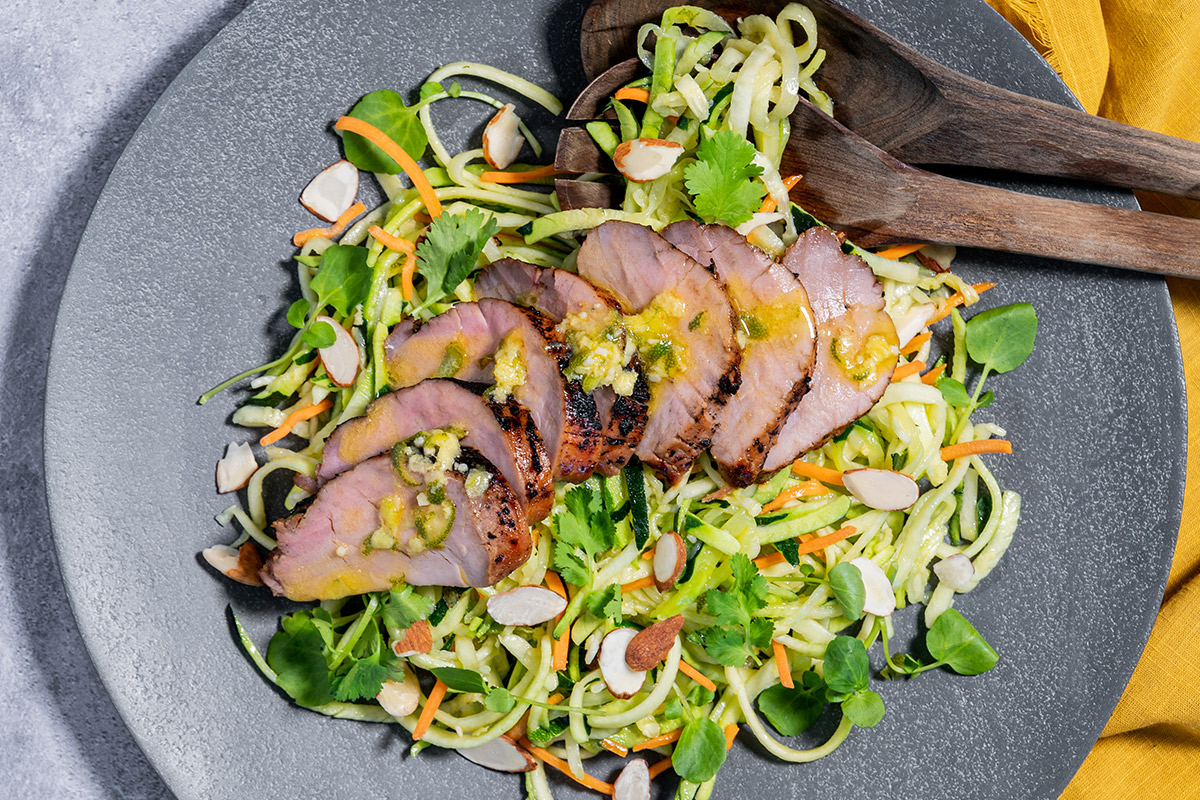 Char Siu Tenderloin with Zucchini Noodles
Source: Chef Jean-Paul Bourgeois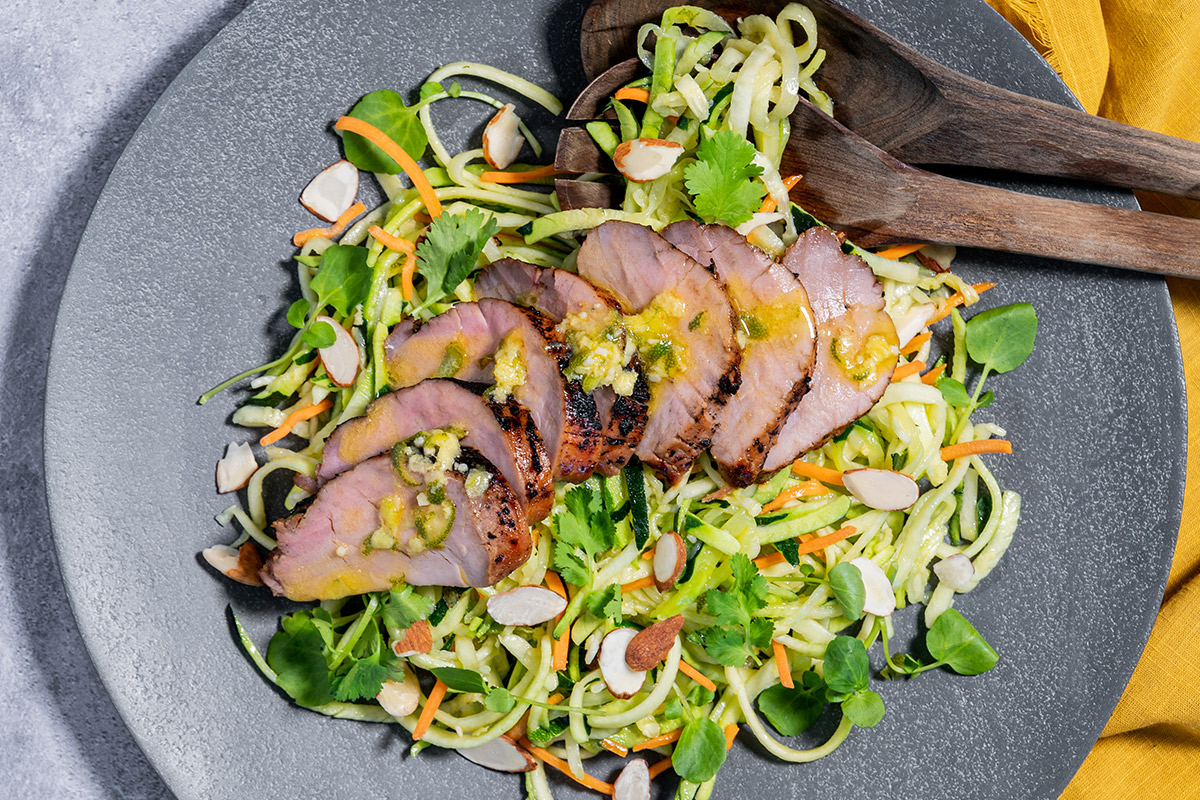 Marinade:
1/2 cup char siu sauce
2 tablespoons oyster sauce

1 tablespoon light soy sauce

1/2 teaspoon Chinese 5 spice powder

5 cloves garlic, finely sliced

5 slices ginger

1 teaspoon chili powder

Ginger lime dressing for zucchini noodles:
1 teaspoon fresh ginger, finely minced
1/2 teaspoon lime zest, finely grated

1/2 teaspoon garlic, minced

1/4 teaspoon Dijon mustard

1/4 teaspoon kosher salt

1/8 teaspoon granulated white sugar

2 tablespoons plus 2 teaspoons fresh lime juice

1 teaspoon white wine vinegar

2-4 drops Tabasco pepper sauce

1/4 cup grapeseed oil or other neutral-flavored oil

1 16-ounce package precut zucchini noodles or approximately 1 large zucchini cut on the sprializer

Bowl ingredients:

sliced almonds, to taste
Raw shredded carrot, to taste

Watercress, to taste

Garnish:

1. In a bowl, mix all marinade ingredients. Reserve about 1/4 cup or less of the marinade.
2. In a zipper bag, add the pork tenderloin and pour in the remaining marinade. Make sure the entire tenderloin is covered with marinade. Marinate in refrigerator for 24-48 hours.
3. Preheat oven to 300 F. Place tenderloin in a roasting pan. Slow roast the pork tenderloin and brush reserved marinade on tenderloin roast every 15 minutes until the pork reaches 145 F. Remove from the oven and let rest.
4. In a mixing bowl, add lime dressing ingredients, except for the grapeseed oil. Whisk thoroughly. Little by little, drizzle and whisk in grapeseed oil. Refrigerate.
5. In a pot of salted hot water, blanch your zucchini noodles for 1 minute. Remove from water and place in ice water for 2 minutes to stop cooking.
6. Remove from ice water and lay zucchini noodles on a sheet pan lined with paper towels. Add more paper towels to the top and press gently to dry the zucchini noodles.
7. To serve in a bowl, place about a handful of noodles, along with your choice of almonds, shredded carrots and/or watercress or any favorite salad ingredient. Drizzle lime dressing vinaigrette over the top of the zucchini noodles. Slice pork tenderloin and add to the top. Brush a small amount of reserved marinade to the top of your pork. Garnish bowl with whole leaf cilantro.