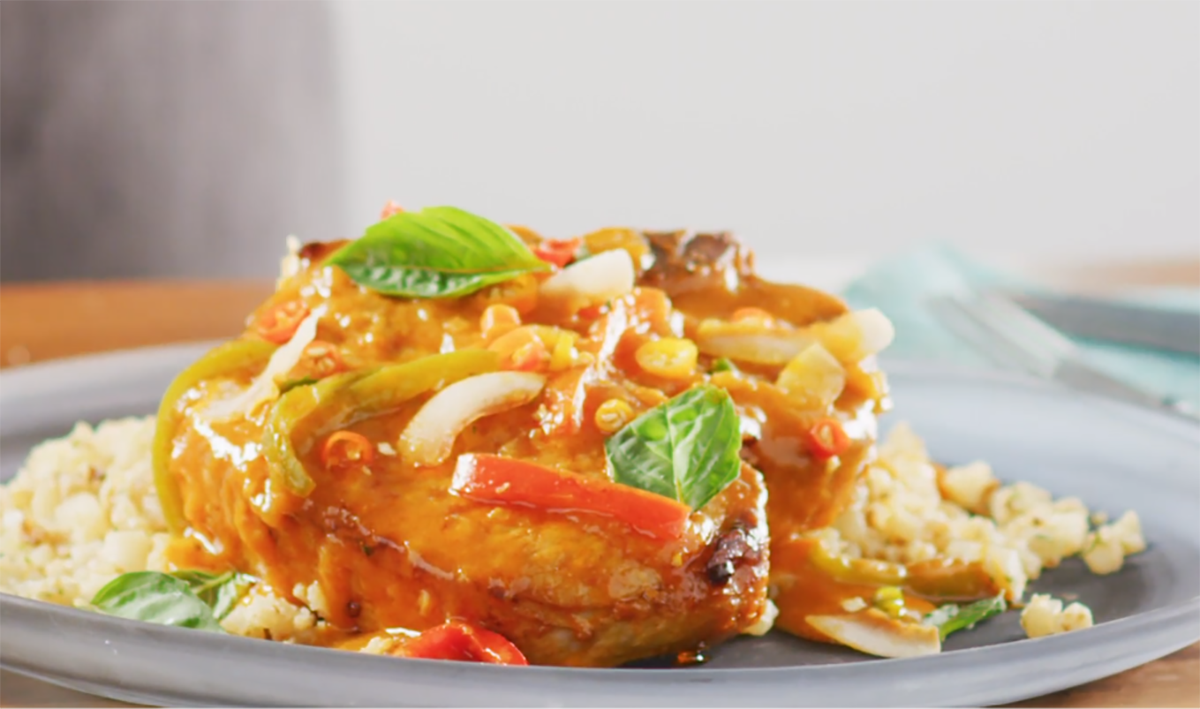 Pressure Cooker Thai Pork-Chop Curry
Source: National Pork Board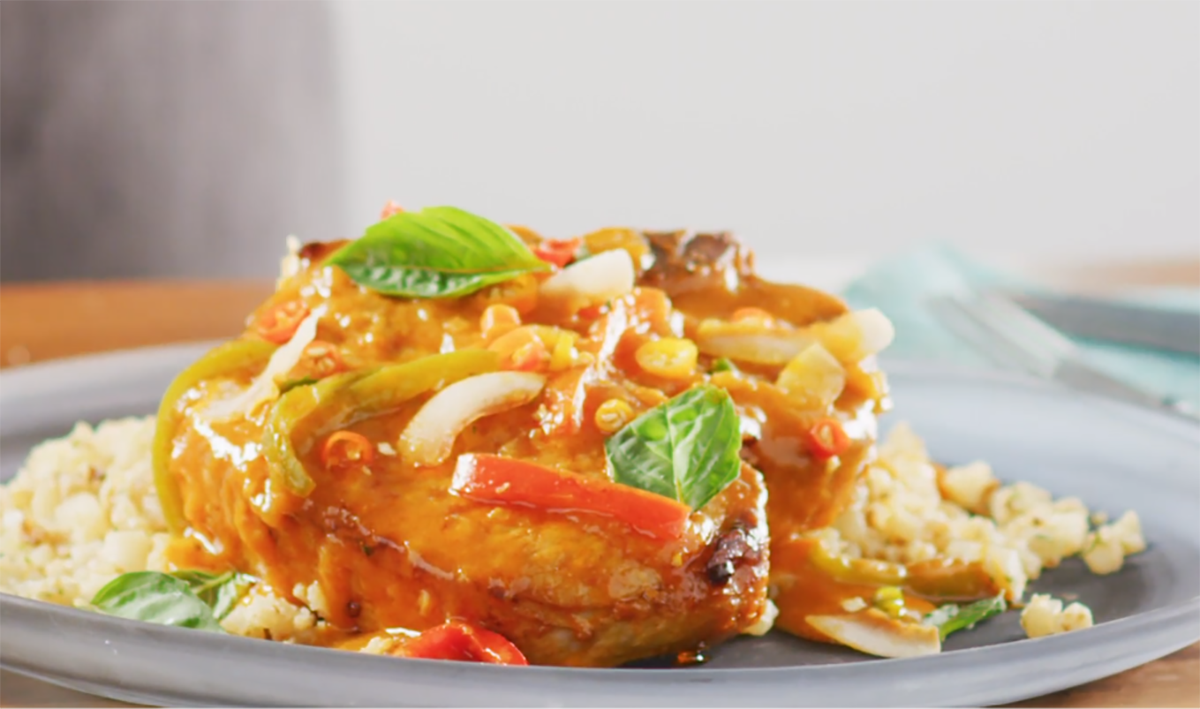 4 Prairie Fresh® bone-in pork chops (8 ounces, cut 3/4-inch thick)
13.5 ounces unsweetened coconut milk
3 tablespoons fresh lime juice
2 tablespoons brown sugar (packed)
1 tablespoon fish sauce
2 tablespoons olive oil (divided)
1/2 cup yellow onion (finely chopped)
1/4 cup red Thai curry paste
1 1/2 teaspoons fresh ginger (grated)
1/2 cup reduced sodium chicken broth
1 tablespoon cornstarch
1 red bell pepper (small, seeded and cut into 2-inch thin strips)
1 green bell pepper (small, seeded and cut into 2-inch strips)
unsweetened flake coconut (toasted; for garnish, optional)
Thai basil (for garnish, optional)
3 cups cauliflower rice
In a medium bowl whisk together coconut milk, lime juice, brown sugar and fish sauce; set aside.
Select sauté function on the pressure cooker. Heat 1 tablespoon oil until shimmering. Pat pork chops dry with paper towels. Brown pork chops in hot oil in two batches. Remove pork chops and set aside.
Add remaining 1 tablespoon oil to the pressure cooker. Add onion. Cook for 3 minutes or until softened, stirring occasionally. Stir in curry paste and ginger; cook and stir for 30 seconds.
Stir coconut milk mixture into curry mixture. Add pork chops. Lock lid in place on the pressure cooker and set valve to SEALING position. Cook on HIGH PRESSURE for 10 minutes. Select CANCEL function. Place towel over release valve and move to VENTING position (Quick Release). Carefully, remove towel and allow steam to release.
Carefully remove lid, allowing team to escape away from you. Transfer chops to a serving dish. Cover with foil.
Whisk together chicken broth and corn starch; stir into coconut milk mixture. Add red and green bell peppers. Select SAUTE function and cook for 2 to 3 minutes or until slightly thickened, stirring occasionally. Transfer sauce mixture to serving dish with pork chops. Garnish with toasted coconut and basil, if desired. Serve with riced cauliflower or white rice.