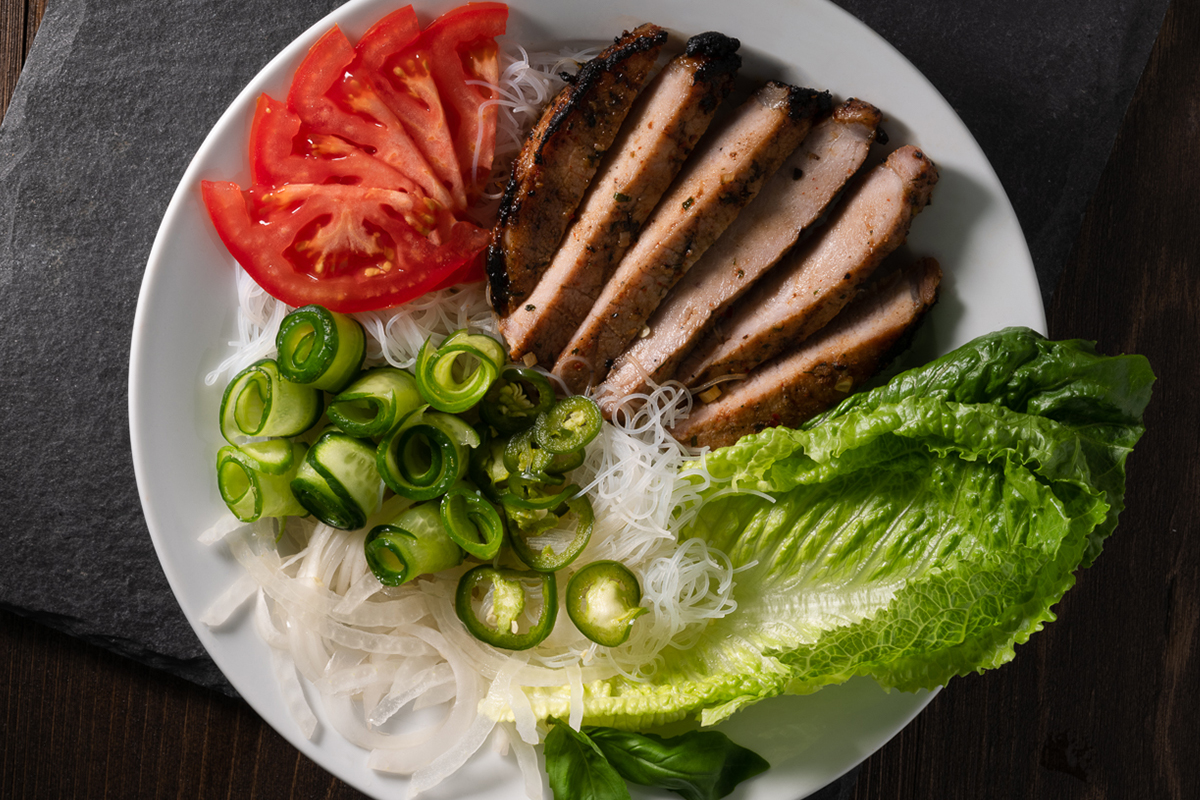 Vietnamese Pork Cold Noodle Bowl
Source: Chef Jean-Paul Bourgeois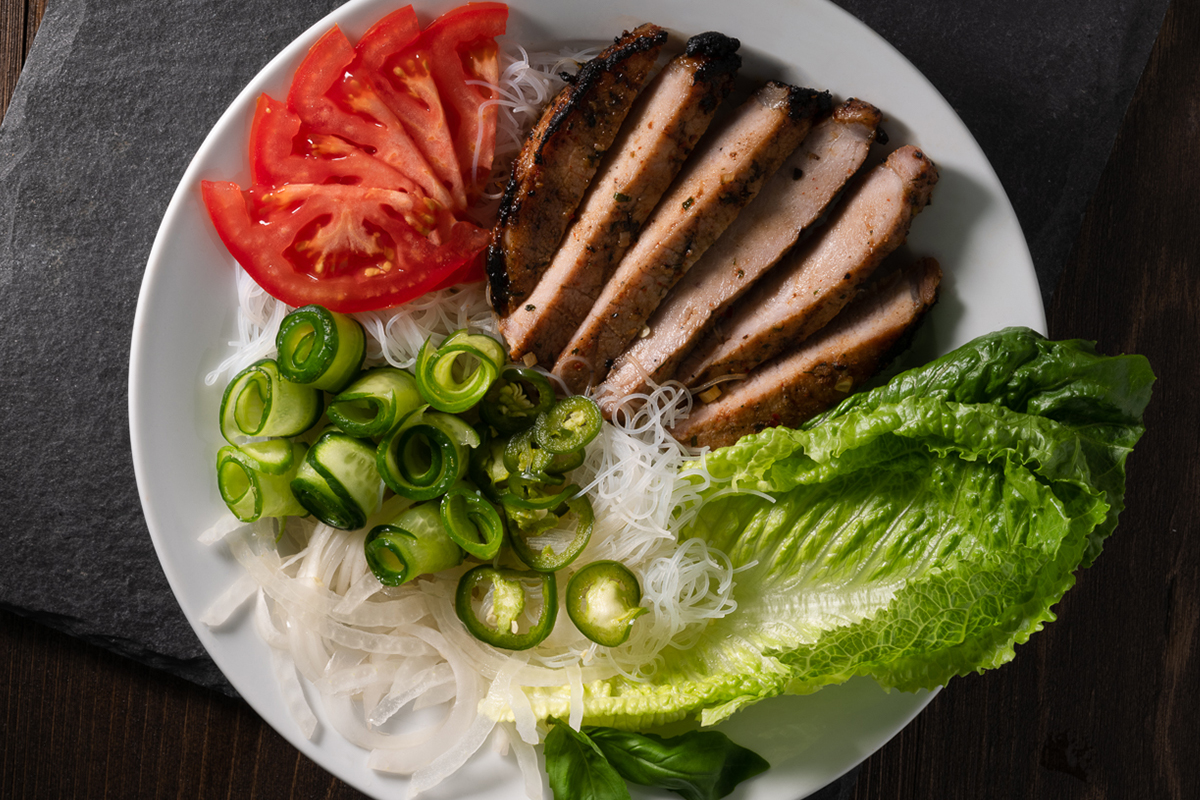 6 Prairie Fresh USA Prime™ pork loin cutlets, ¼-inch thick
Marinade:
¼
cup lemon grass, chopped
1 tablespoon chili flakes
2 limes, juiced
2 tablespoons fresh ginger, grated
1 tablespoon garlic, grated
Noodle Dressing (Vinaigrette):
2 limes, juiced
1½
tablespoons sugar, granulated
1 chile, thinly sliced
Cold Noodle Salad:
1 pack (14 ounces) vermicelli rice noodles
3-4 leaves Romaine lettuce
3 Kirby cucumbers, thinly sliced lengthwise
1 onion, thinly sliced
1 tomato, ripe, halved and thinly sliced
1 cup snow peas, thinly sliced
In a mixing bowl, combine cilantro, basil, mint, lemon grass, chili flakes, oil, lime juice, ginger, garlic, sugar and fish sauce to prepare the marinade. Pour marinade over pork cutlets making sure all meat is coated. Marinate for at least 4 hours or up to 24 hours in the refrigerator
For the noodle dressing, combine all the ingredients in mixing bowl and set aside.
In a large pot on high heat, add fresh water and bring to a boil. Add rice noodles to the boiling water and follow the package instructions.
Once tender, strain noodles and run under cold water until completely chilled. Set aside in the refrigerator covered with a damp paper towel.
Preheat grill to 450 F. Add your pork cutlets to the grill. Strain off the solids of the marinade and add them on top of your cooking cutlets. Reserve the marinade juice.
Grill cutlets over high heat, flipping when necessary. Use a sauce brush to continually add the reserved liquid from the marinade on top of the pork. When pork is done, remove from the grill and set aside.
In a serving bowl, add your cold noodles and dress with noodle dressing. Add tomatoes, cucumbers, lettuce and onions to the bowl. Mix them in or decorate the top of your noodles with different shapes and piles of vegetables.
Slice your grilled pork cutlets into thin strips and set on top of the bowl. Drizzle with noodle dressing. Serve with cold beer and chop sticks.