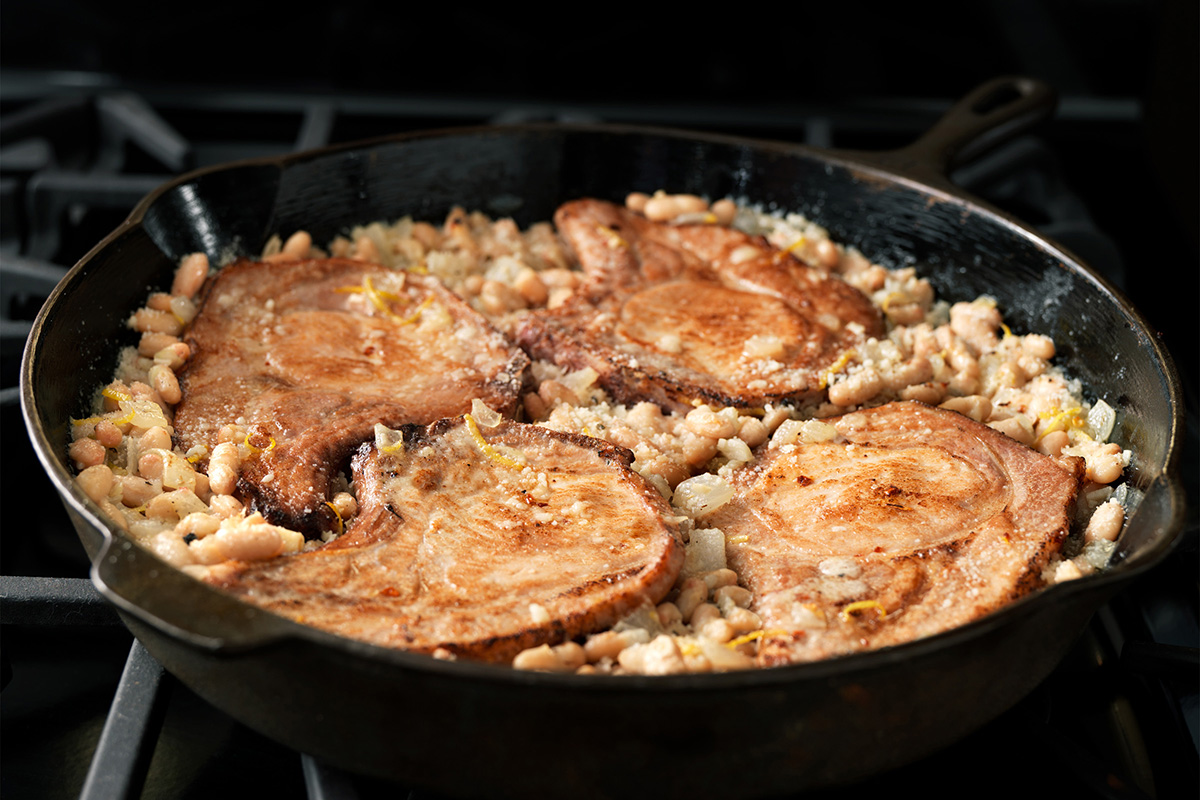 Baked Pork Loin Chops with Parmesan White Beans
Source: National Pork Board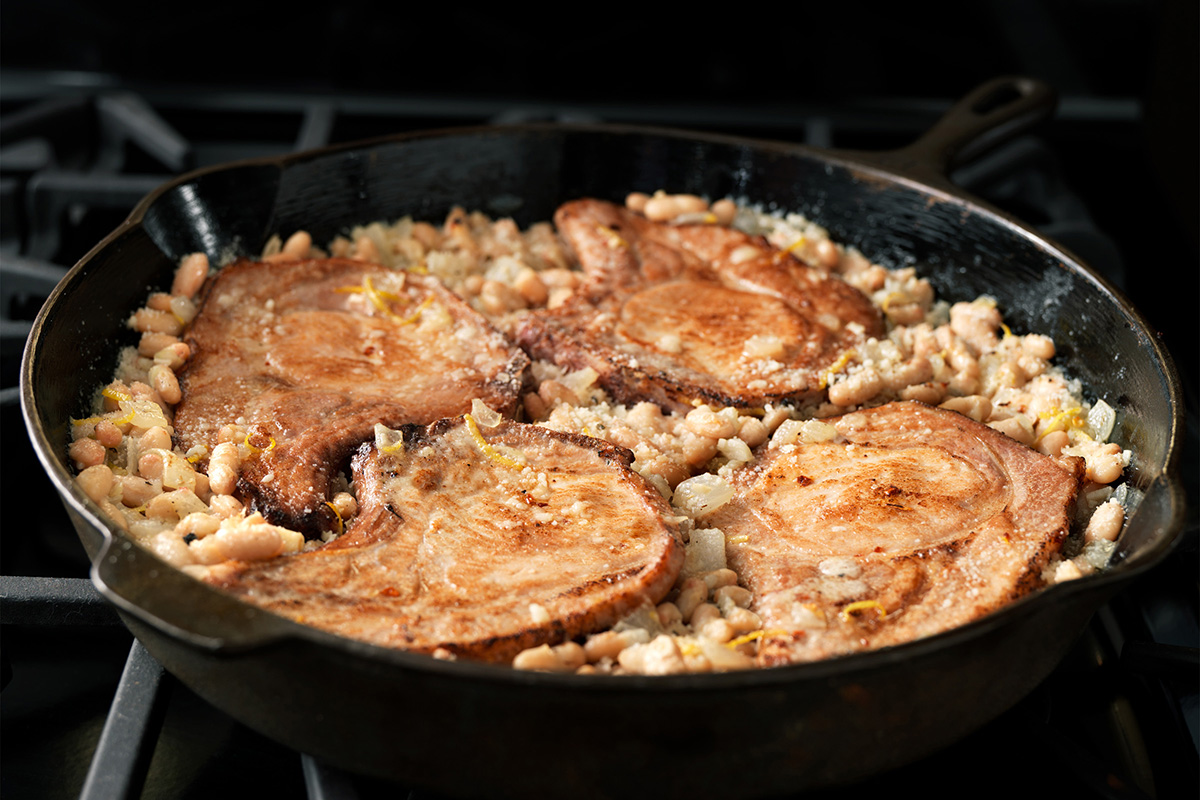 4 Prairie Fresh® pork loin chops (bone-in or boneless New York pork chops, about 6 ounces each)
1 teaspoon kosher salt
1/2 teaspoon black pepper
2 tablespoons extra virgin olive oil
1 small yellow onion, chopped
2 cloves garlic, minced
30 ounces white navy beans (cannellini or great northern beans, reserving liquid from one can)
1 lemon, zested and juiced (2 tablespoons fresh lemon juice)
2 teaspoons kosher salt
1 tablespoon Herbes de Provence
1 teaspoon dried thyme
1 teaspoon black pepper
1/4 teaspoon red chile flakes
1/3 cup Parmesan cheese (freshly grated, divided)
2 cups baby arugula
extra virgin olive oil (for drizzling)
1 lemon (cut into quarters, for serving)
Season the pork with salt and pepper. Using a large flameproof skillet (such as cast iron), heat the pan for 5 minutes over low heat. Add oil and pan-sear pork chop on one side until browned, 3 minutes. Remove pork and set aside.
In the same pan, add the onion. Increase the heat to medium-high and cook, stirring occasionally, until translucent and browned around the edges, 2 to 3 minutes. Stir in garlic and cook until lightly browned and fragrant, about 1 minute. Stir in the beans with the reserved liquid, lemon zest and juice, Herbes de Provence, chili flakes, salt and pepper. Bring to a simmer and cook to slightly reduce the liquid, about 1 minute. Remove from the heat. Stir in 1/4 cup of the Parmesan cheese. Nestle the pork into the beans with the browned side facing up, leaving the tops exposed. Sprinkle the remaining 1/3 cup Parmesan over the chops and beans.
Position a rack in the center of the oven. Do not preheat the broiler. Put the skillet with the pork and beans in the cold oven and then turn the broiler to high. Cook until the chops look opaque, an instant-read thermometer inserted horizontally into the center of a chop reads between 145 F and 160 F, and the cheese is melted and lightly browned, 10 to 13 minutes. If the beans brown before the chops are done, move the skillet to a lower rack of the oven and continue cooking. Remove from the oven and let stand for 3 minutes before serving.
While the pork is in the oven, dress the arugula with olive oil, lemon juice and salt and pepper to taste.
Transfer each chop to a plate, topping each with a portion of beans, cheese side up. Divide dressed arugula among the plates.