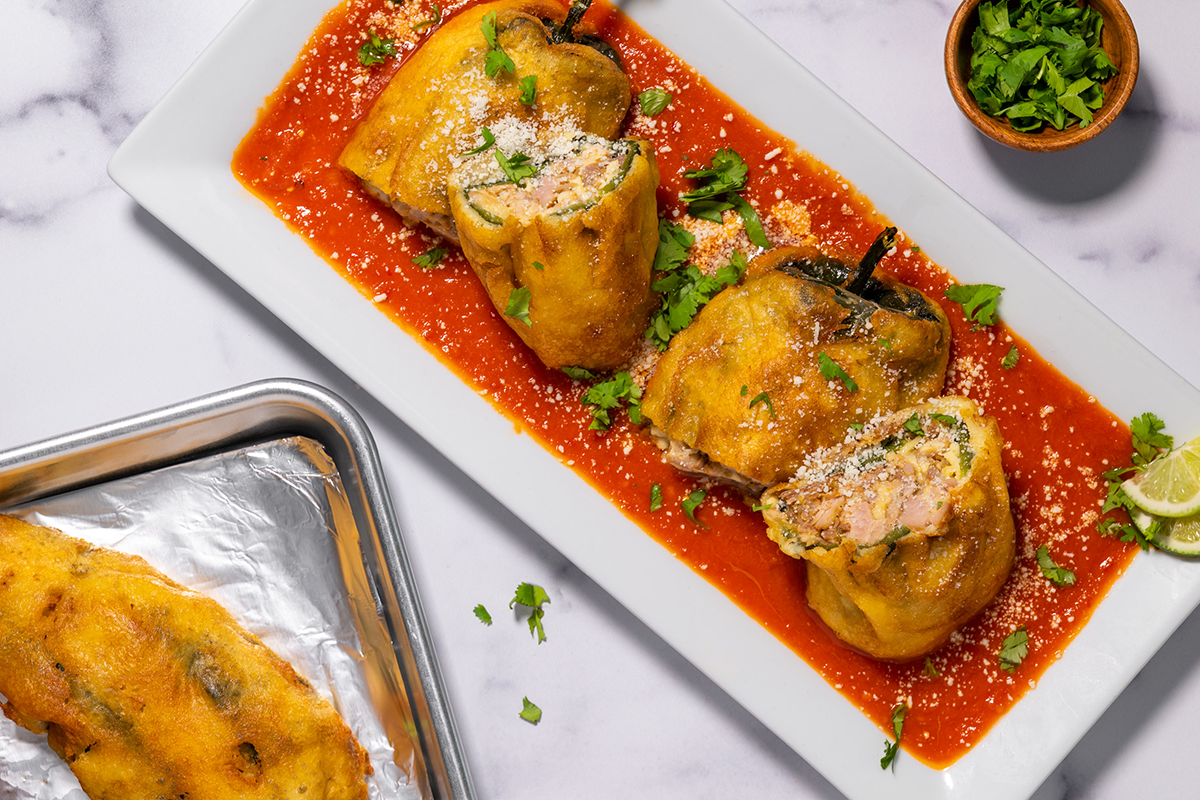 Source: The Shed Barbeque and Blues Joint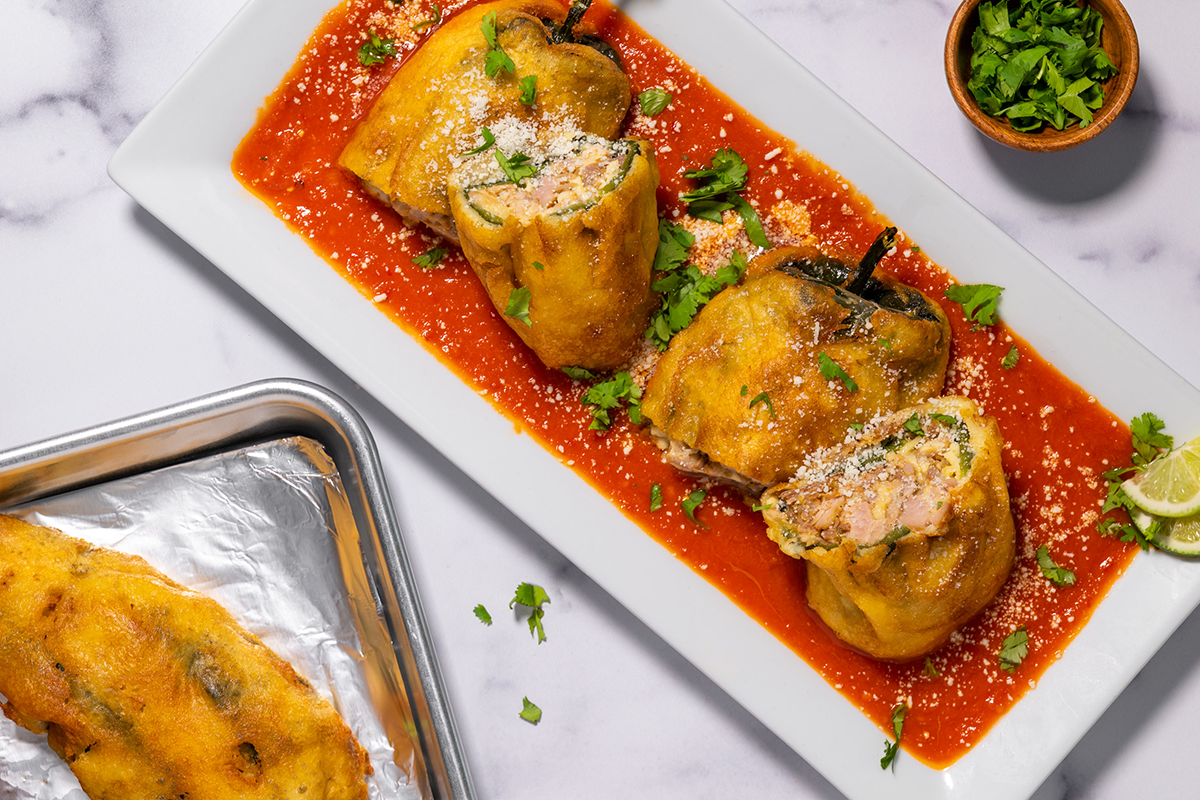 2 Prairie Fresh® pork tenderloins
2 tablespoons olive oil
1/2 tablespoon cumin
1/2 tablespoon dried oregano
1/2 teaspoon jalapeno powder
1/2 teaspoon salt
1/2 teaspoon pepper
1/2 teaspoon Cholula hot sauce* optional for added heat
2 tablespoons fresh cilantro, diced
2 bay leaves
1/2 tablespoon minced garlic
1 small onion, diced
1/2 cup orange juice (pulp free)
2 limes
1 4-ounce can diced green chiles
4-6 poblano peppers
1 lb. queso cheese or pepper jack cheese, sliced
1 cup flour
1 quart canola or vegetable oil for frying
Egg batter: Prepare before using
6 eggs whites and yolks separated
3 tablespoons flour
Cut pork tenderloins into 3 equal-sized pieces and rub with olive oil.
In a bowl, combine cumin, oregano, jalapeno powder, salt and pepper.
Coat tenderloin pieces with rub.
In a pressure cooker, add green chiles, bay leaves, minced garlic, orange juice, onion, Cholula hot sauce and juice of 2 limes. Give a quick stir to marry flavors.
Add seasoned tenderloin pieces to pressure cooker.
Place lid and set pressure cooker on pressure cook for 25 minutes. *Make sure pressure cooker is in the Seal position.
Once cooked, remove pork from pressure cooker and place in a large bowl. Finely shred pork using two forks. Add 1-2 cups juice from the pressure cooker to shredded pork and place in refrigerator to cool. Pork should cool completely before use.
In oven under broil, char the skin on the poblano peppers; about 5-10 minutes. Remove from oven.
Carefully remove charred skin from peppers.
Leaving stem attached, make a cut from stem about halfway down pepper.
Carefully remove seeds. *For extra spice, leave seeds in.
Remove pork from refrigerator. Gently squeeze out excess juices from shredded pork.
Stuff peppers with shredded pork and sliced cheese. Careful not to overstuff. The opening should come together.
Once all peppers are stuffed, coat all sides with flour.
Place stuffed peppers in freezer for 20 minutes.
Prepare egg batter by placing egg whites in a large bowl and mixing on high with a hand mixer for 15 minutes until triple the size and the consistency is pure fluff. Add the yolks of the eggs into the mixture and beat with a hand mixer on high for 5 minutes. Add the flour and continue mixing on high for another 2 minutes. Set aside.
In a large pan, heat 1-2 inches of fry oil to 350 F.
Coat peppers in egg batter and fry until golden brown.
Garnish with cilantro and serve with your favorite salsa.