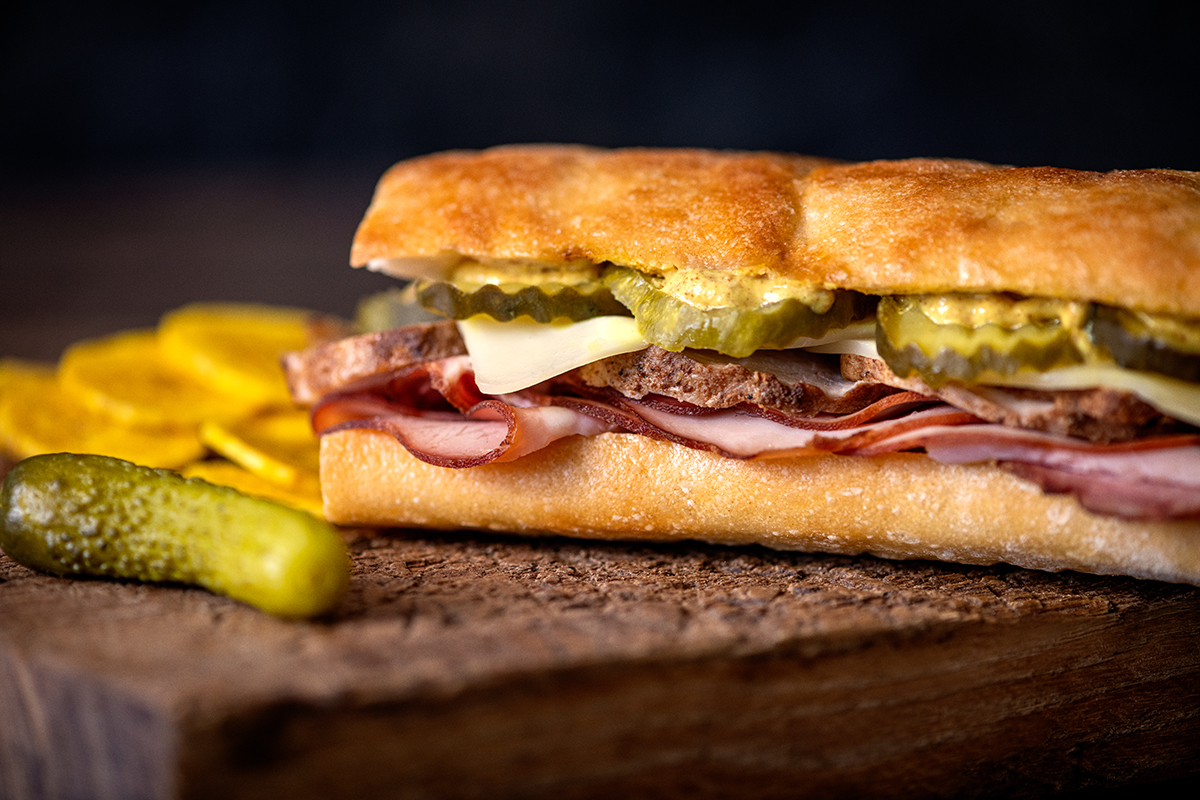 Source: National Pork Board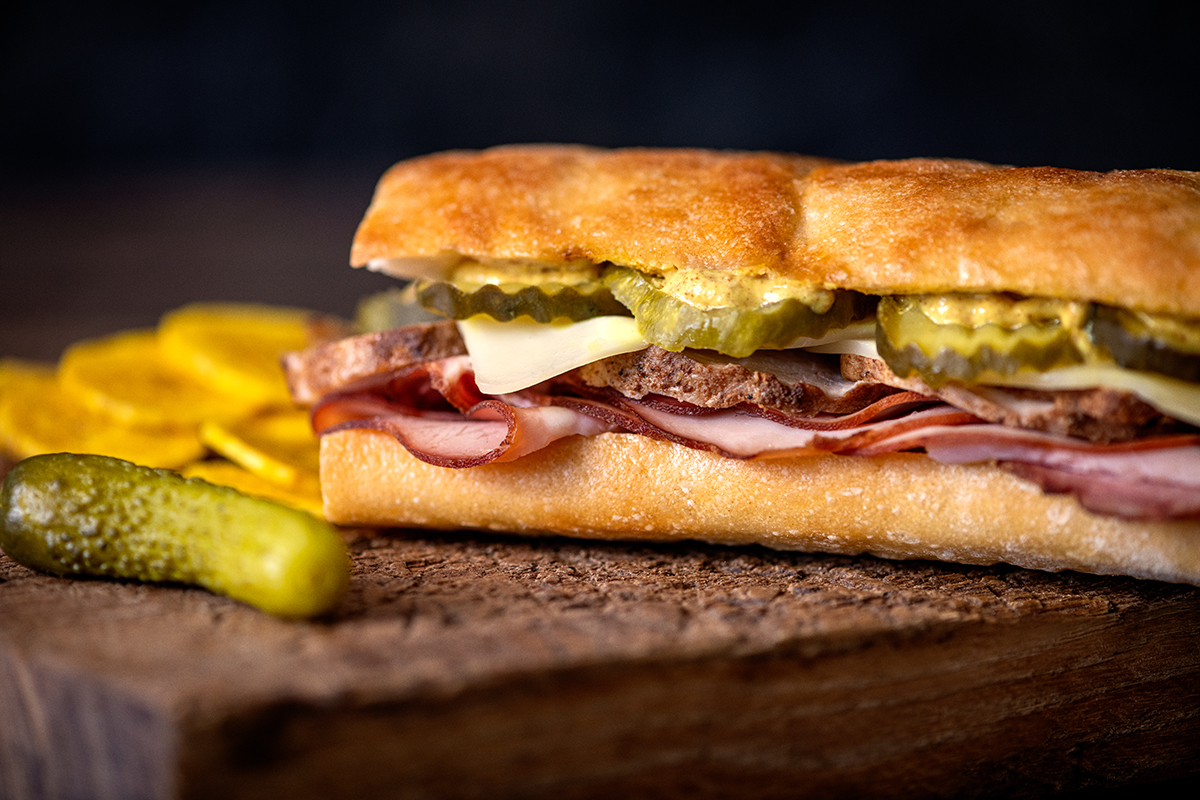 2 1/2 pounds Prairie Fresh® center-cut pork loin
1/2 pound deli smoked honey ham (sliced thin)
1/2 pound baby Swiss cheese (sliced thin)
2 loaves semi-soft French bread
dill pickles (sliced)
1 stick unsalted butter (room temperature)
1/2 cup fresh squeezed orange juice (about 3 large oranges)
3/4 cup olive oil
1/2 cup fresh squeezed lime juice (about 6 limes)
1 bunch cilantro (washed)
6 cloves garlic
1 tablespoon orange zest
1 tablespoon fresh oregano
2 teaspoons cumin
1/4 cup sugar
1/4 cup honey
2 tablespoons cider vinegar
2 tablespoons yellow mustard
Prepare Mojo Marinade: Place all ingredients in a food processor and pulse until combined. Reserve 1/2 cup of marinade for the glaze. Ingredients: 1/2 cup freshly squeezed orange juice, 3/4 cup olive oil, 1/2 cup freshly squeezed lime juice, 1 bunch cilantro, 6 cloves garlic, 1 tablespoon orange zest, 1 tablespoon fresh oregano, 2 teaspoons cumin.
Place pork loin in a sealed plastic bag and pour the prepared Mojo Marinade over. Refrigerate for 6-8 hours.
Prepare Mojo glaze: Place ingredients in a small pot over medium-high heat. Whisk to combine and reduce by half until it begins to thicken. Place in small jar or bowl until ready for use. Ingredients: 1/2 cup reserved mojo marinade, 1/4 cup sugar, 1/4 cup honey, 2 tablespoons cider vinegar, 2 tablespoons yellow mustard.
Preheat oven to 400 F.
Remove pork from marinade, place on wire rack over sheet pan, season with salt and pepper, and place in oven.
When pork reaches 100 F internal temperature begin brushing on glaze, continue to glaze every 10 minutes.
Remove pork from oven once internal temperature reaches 145 F and let rest for 3 minutes. Meat can be sliced or put in refrigerator overnight to slice next day for ease. Slice into 1/8-1/4" pieces.
Slice bread and spread on mustard, layer with ham, sliced pork, Swiss cheese, pickles and close. Butter the top of each sandwich.
In sandwich press, heavy bottom skillet, or griddle pan over medium high heat, lay sandwich butter side down and press to make flat. Let get golden brown on one side, butter the other half and flip.
Press the sandwich again until cheese is melted.