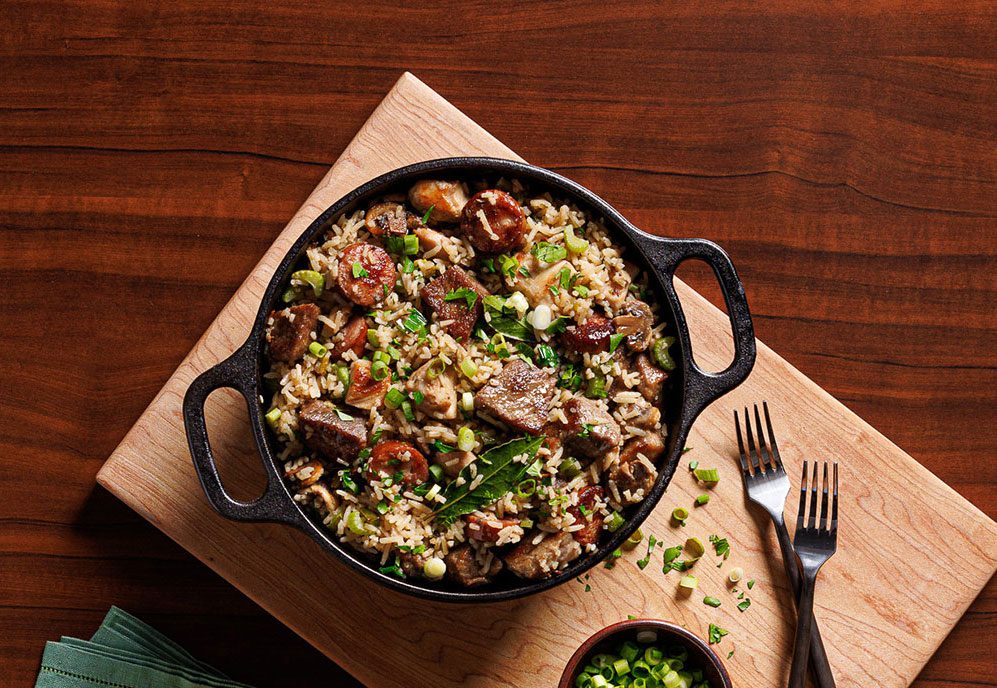 Source: Chef Jean-Paul Bourgeois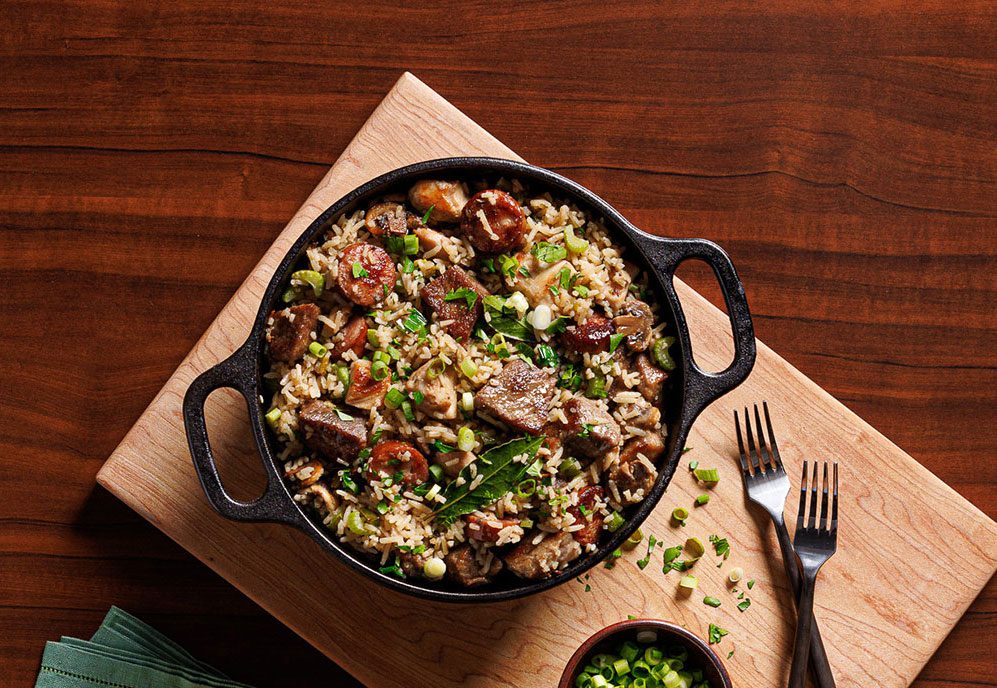 3 pounds Prairie Fresh

®

boneless pork shoulder, 1"x1" cubes
2 pounds of boneless chicken thighs, cubed
1-pound smoked andouille sausage, cut into coins
2 cups chopped onion
1 cup chopped celery
1 cup chopped green bell pepper
4 cloves garlic, minced
3 bay leaves
½ cup chopped parsley
1 cup sliced green onions
2 cups sliced mushrooms
Salt and pepper
2 tablespoons dark brown sugar
½ cup vegetable oil
4 tablespoons butter
Hot sauce
7 cups chicken stock
4 cups uncooked long grain rice
Season your pork shoulder and chicken thighs liberally with salt and pepper. Set aside.
In a large black iron pot, add ¼ cup vegetable oil and butter.
Get your fat smoking hot and add your seasoned pork shoulder and chick thighs to the grease. Brown your meat until it reaches a deep dark caramelization, and it starts sticking to the bottom of the pot.
Add your andouille and continue to cook for 15 minutes on medium heat stirring often.
Add onions, bell peppers, celery, and garlic and continue to cook until the vegetables are wilted and well caramelized. Be careful not to scorch the bottom of the pot.
Pour stock into the pot and bring to a boil. Reduce to a simmer and cook for an additional 15 minutes.
Stir in mushrooms, green onions, parsley, brown sugar, and salt and pepper. Broth should taste on the salty side.
Add rice and bring to a rolling boil.
Reduce heat to very low. Cover and cook for 30 minutes, gently flipping/folding your cooking jambalaya every 15 minutes.
Do not cover unless it is to stir which should only be for a few seconds.
After 30 minutes, briefly fold the rice and let your jambalaya steam for an additional 15 minutes.
Serve with hot sauce on the side.