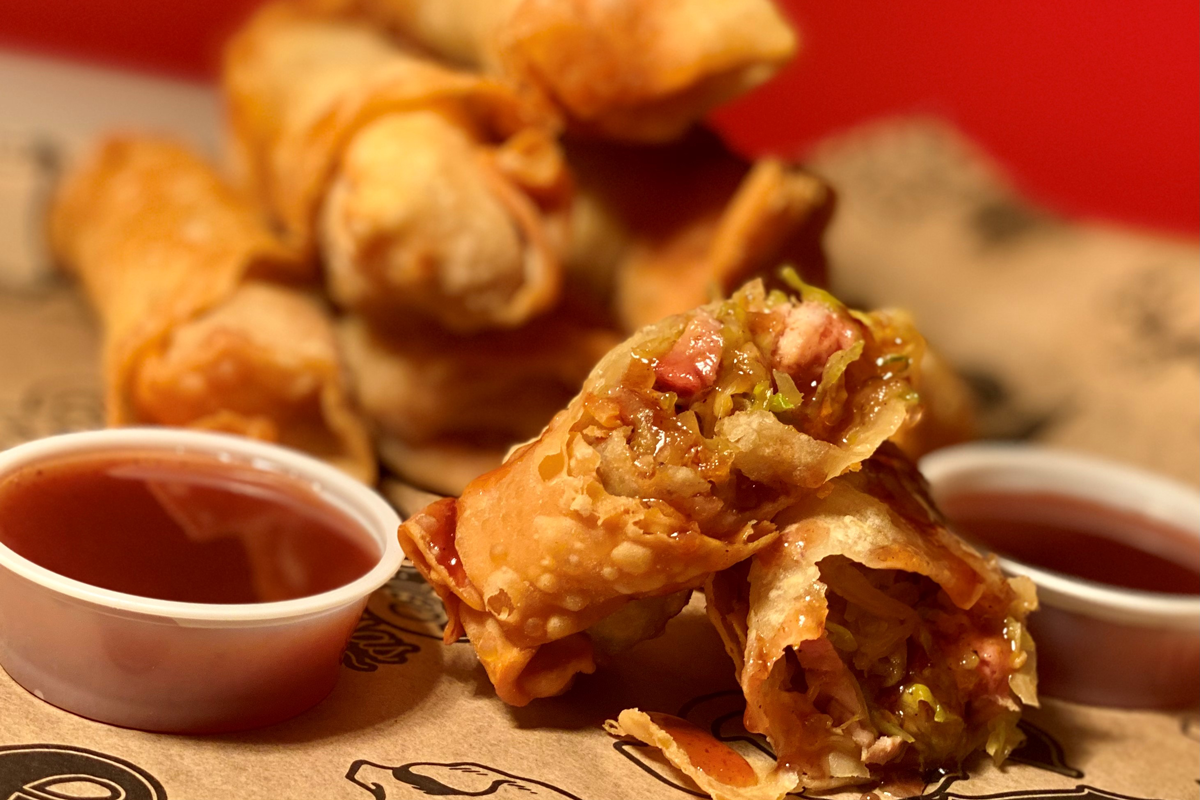 Pork Tenderloin Egg Rolls with Sweet and Sour Holiday Sauce
Source: Joe Pearce, Slap's BBQ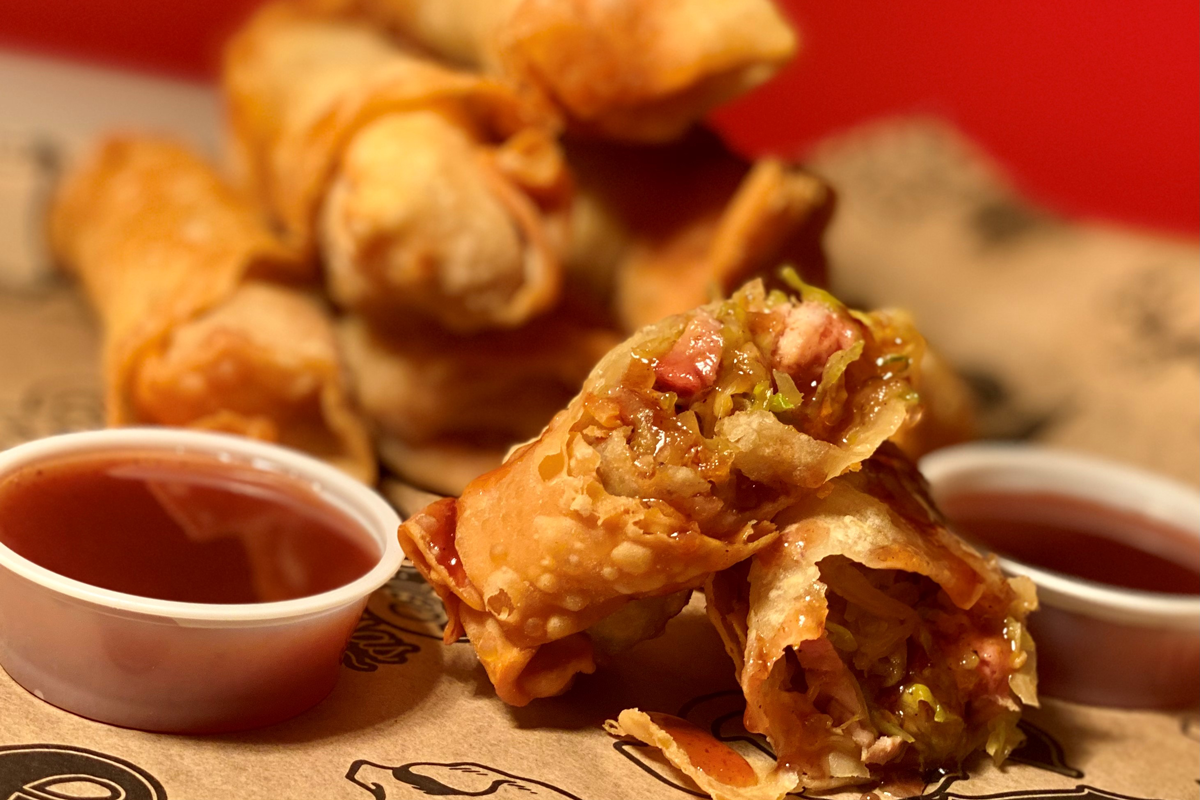 Egg Rolls
1 Prairie Fresh
®
Pork Tenderloin
1/4 cup soy sauce
2 tablespoons seasoned rice vinegar
1 tablespoon light-brown sugar
6 cups (48 ounces) vegetable oil
2 1-pound bags of coleslaw cabbage mix with carrots
4 garlic cloves, minced
1 tablespoon fresh ginger, grated
Coarse salt and ground pepper
16 egg-roll wrappers (6 to 7 inches per square)
1 large egg, lightly beaten
1/2 cup favorite barbecue seasoning rub

Sweet and Sour Holiday Sauce
4 red pears
1 cup cranberries
16 ounces raw honey
1 teaspoon allspice
1 teaspoon ground cloves
1/2 teaspoon cinnamon powder
1 cup apple juice
Juice from ¼ lemon

Sweet and Sour Holiday Sauce
Wash and dry pears and cranberries. Cut pears into quarters making sure to remove any seeds and stems. With the bottom of a pan or pot crush the cranberries making sure they all spilt open a bit. Heat 10-inch pan to medium high heat. Add 1 tablespoon of oil to pan; then add fruit. Cook fruit over medium heat until fruit is soft.
Remove fruit from pan. Place in a blender with all ingredients except honey. Blend until completely smooth.
Place smooth fruit mix back into pan and add honey. Heat the mixture stirring constantly until it boils. Remove from heat. Store sauce in a mason jar and let cool completely. Can be made a day ahead and stored overnight.
Egg Rolls
Remove tenderloin from package and rub lightly with your favorite barbecue seasoning. Preheat smoker or grill to 275 F until internal temp of pork is 125 F. Remove from smoker and let cool. Once cooled, cut into ¼-inch chunks.

In a small bowl, combine soy sauce, vinegar, and sugar. In a large skillet, heat 1 tablespoon oil over medium-high heat. Add coleslaw mix, garlic, and ginger; season with salt and pepper. Cook and tossing until vegetables are tender, 3 to 5 minutes. After veggies are tender, add pork and soy mixture, tossing, until pork is heated and liquid has mostly evaporated – about 3 to 5 minutes. Transfer mixture to a plate and let cool.

Lay wrappers flat on a work surface to assemble egg rolls (see below).

In a 5-quart pot, heat oil until a deep-fry thermometer registers 350 F. Working in batches of 4, and returning oil to 350 F after each batch, fry egg rolls until golden, turning occasionally, about 2 minutes. Drain on paper towels.

Serve with Sweet and Sour Holiday sauce and enjoy!

HOW TO ROLL AN EGG ROLL
1. Filling It Up: Lay 3 or 4 egg roll wrappers flat on counter. (Keep other wrappers covered with a damp paper towel.) Place 1/3 cup pork mixture in center of each.
2. Folding It Up: Using a pastry brush, wet border with beaten egg. Fold point of wrapper that's closest to you over the pork mixture, and tuck under the filling.
3. Folding It In: Fold both side corners toward center of wrapper (they won't meet in the center). It should look like an open envelope.
4. Finishing It Up: Tightly roll up filled pocket to close wrapper, then gently press down to seal the edges.