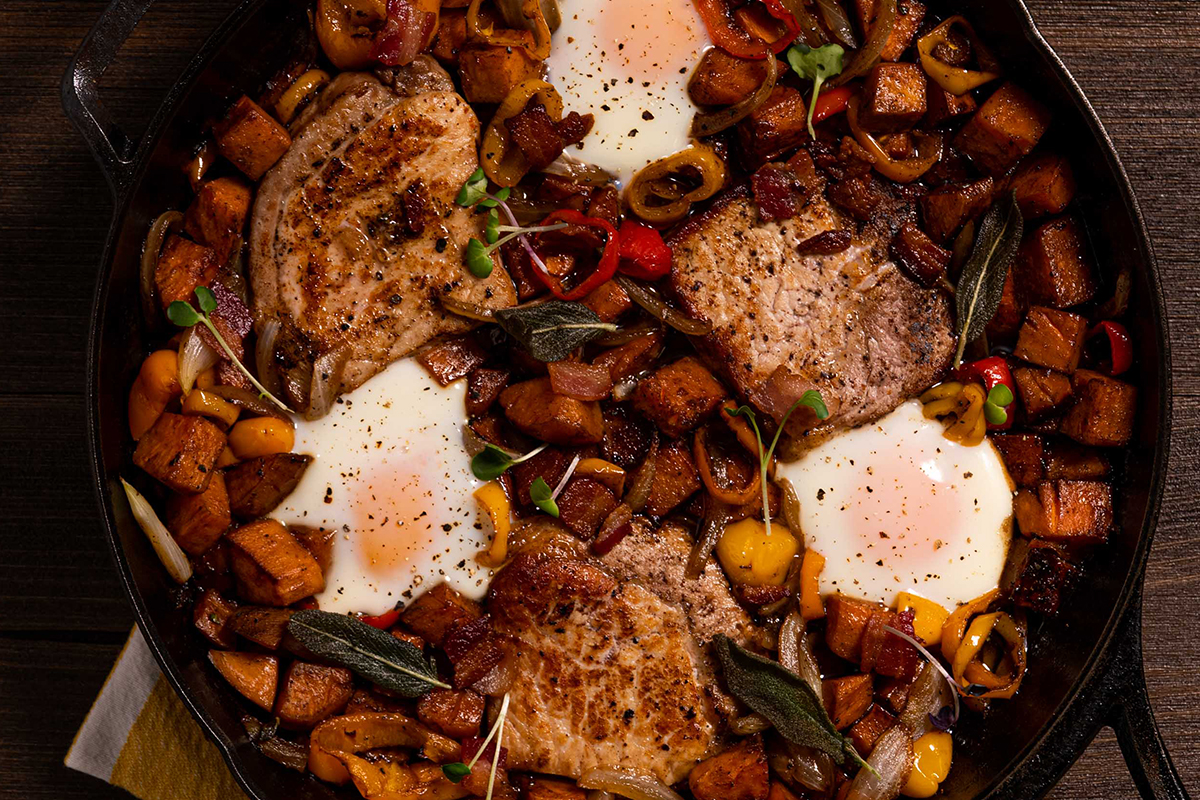 Source: The Shed Barbeque and Blues Joint™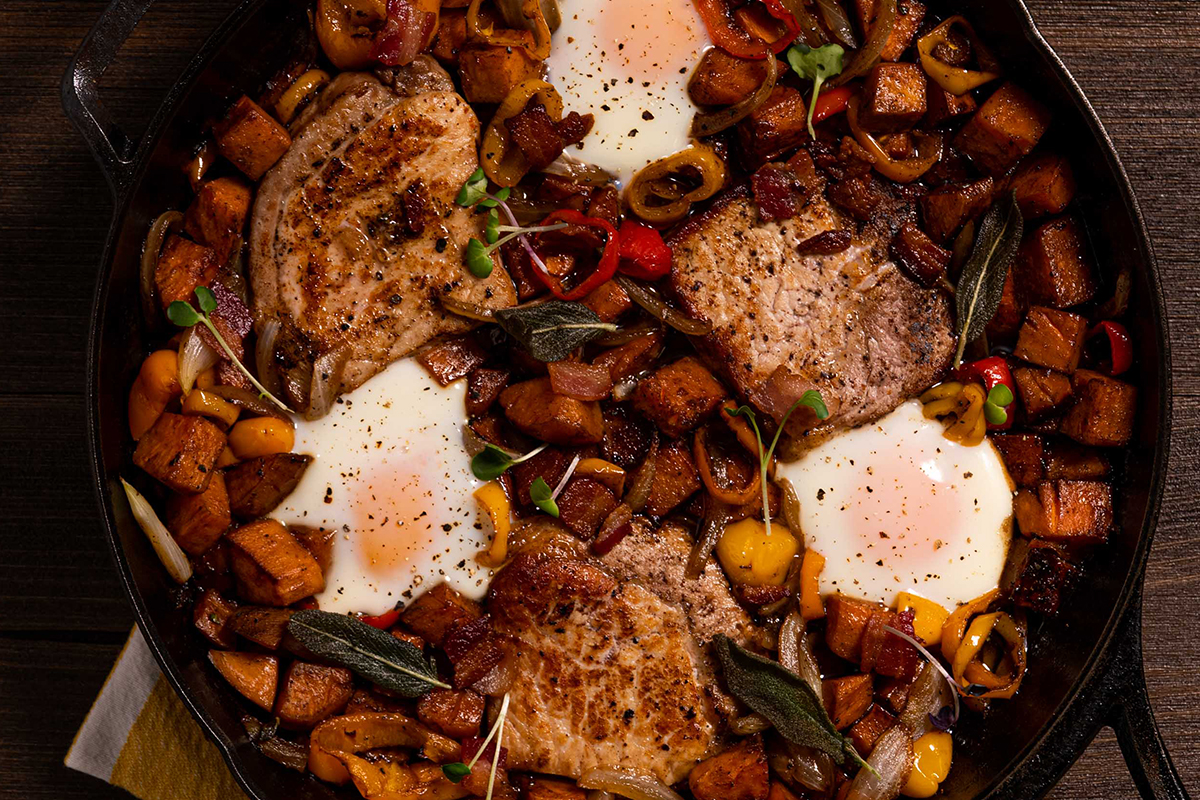 1 Prairie Fresh® pork tenderloin
1/2 pound Daily's® hickory smoked original thick cut bacon, diced small
3 tablespoons high butterfat butter
2 large sweet potatoes, peeled and cut into 1 1/2 inch cubes
1 medium sweet onion, sliced thick
10-12 tricolored mini poivrons (aka mini sweet peppers), seeds removed and sliced
5 eggs
1/2 teaspoon coarse ground black pepper
1/2 teaspoon kosher salt
1/2 teaspoon fresh sage leaves, minced
1/2 teaspoon dried thyme leaves
1/8 teaspoon ground cloves
3 tablespoons dark brown sugar
1/4 cup pure maple syrup
Preheat oven to 400 F.
To prepare rub, combine black pepper, salt, sage, thyme, cloves and brown sugar in a small bowl. When stirring together, press mixture against sides of bowl to release the oils and aromatics of the sage. Set rub aside.
Slice pork tenderloin crosswise into 2-inch thick slices, yielding about 4 to 5 slices. Lightly salt and pepper both sides and set aside.
In a large cast-iron skillet over medium-high heat, render down bacon pieces. Careful not to burn bacon grease. Set cooked bacon aside, reserve bacon grease in skillet
Over medium-high heat, brown all sides of pork tenderloin slices in bacon grease, approximately 2 minutes on each side. Remove pork from skillet and set aside.
Brown onions and peppers in skillet with remaining bacon grease until slightly softened, about 3 to 5 minutes. Remove onions and peppers from skillet and set aside.
In skillet, add 3 tablespoons butter, sweet potato pieces and rub. Sauté potatoes covered over medium heat until potatoes start to soften in about 5 to 7 minutes. Stir often to prevent burning of brown sugar in rub.
When sweet potato pieces become slightly softened, stir in onions and peppers, then place pork slices in skillet.
Crack raw eggs on top of potatoes, between pork pieces. Cover skillet with lid and place in preheated oven.
When pork slices reach internal temperature of 145 F and eggs are cooked over-easy, about 8 minutes, pull skillet from oven.
Drizzle pure maple syrup over skillet and garnish with cooked bacon pieces.