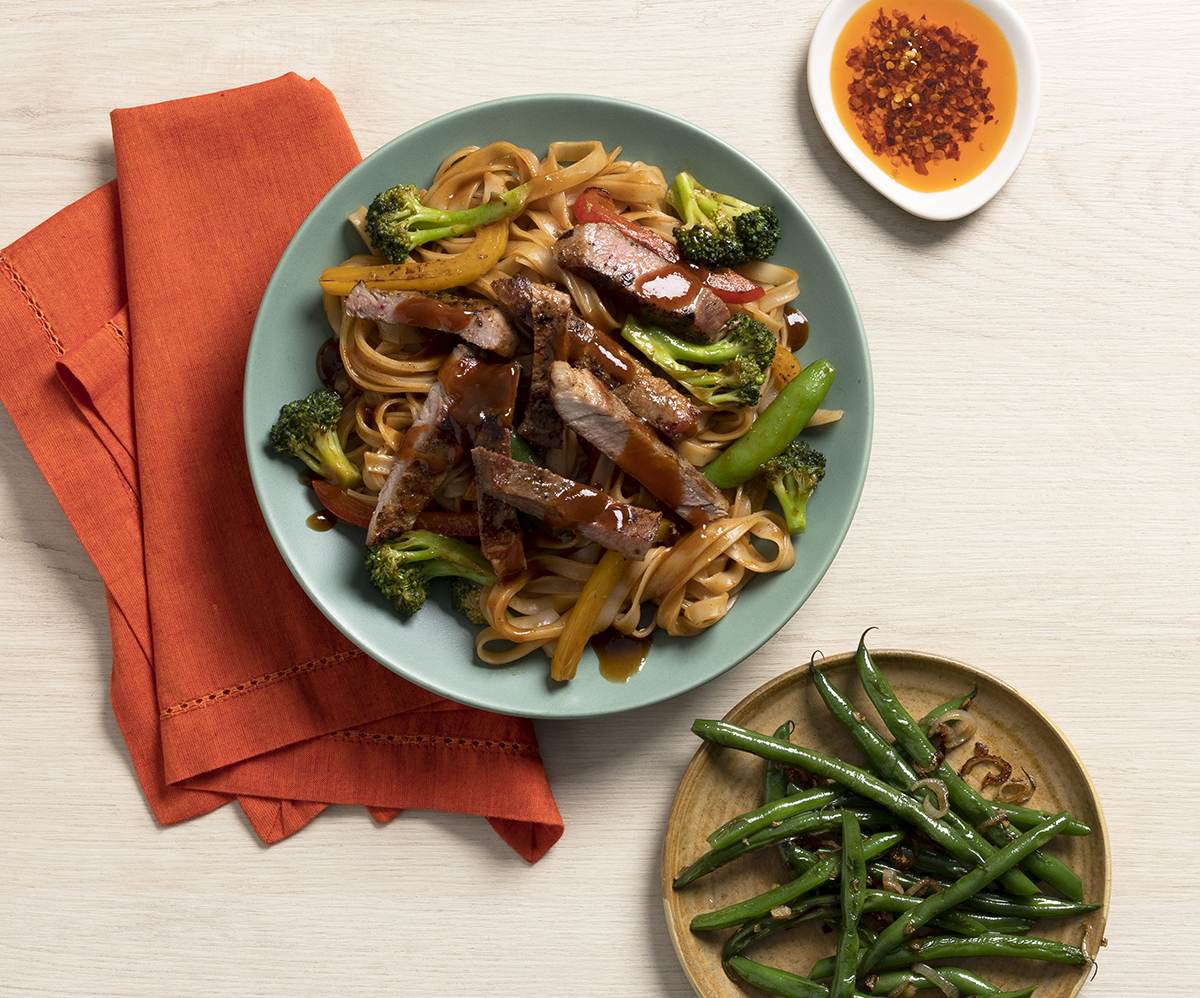 Pork Steak Curry with Veggies and Rice Noodles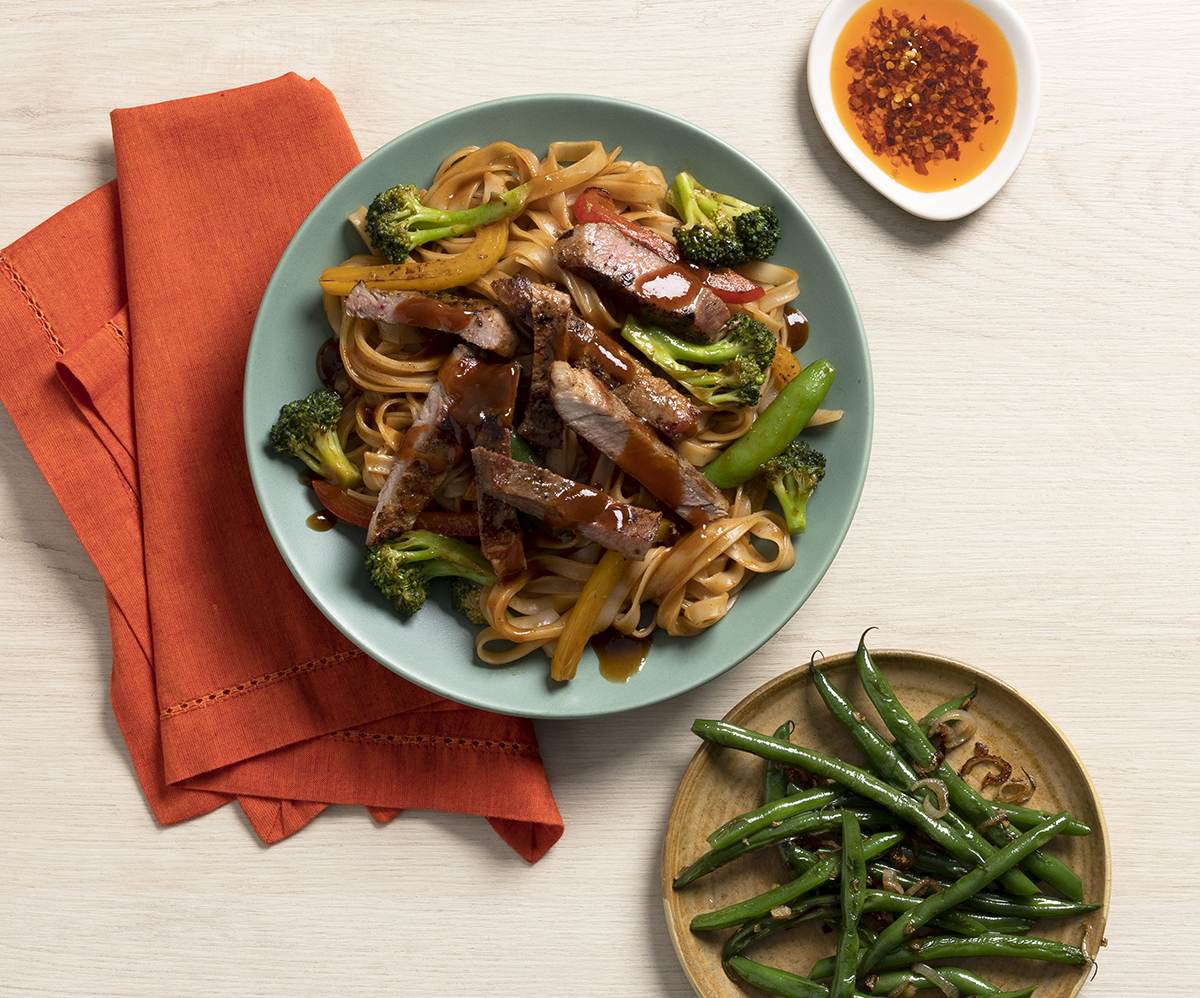 4 Prairie Fresh® pork shoulder butt steaks
8 ounces rice noodles
3 cups cut vegetables (use your favorites: slivered bell peppers, green beans, broccoli, snap peas, mushrooms, shredded cabbage, kernel corn, shredded carrots, onions, or anything you have in the fridge)


Marinade
½ can (6.83 ounces) coconut milk
2 tablespoons red curry paste
1 tablespoon sesame oil
1" piece fresh ginger, peeled and minced
1 teaspoon granulated garlic
1 teaspoon kosher salt


Seasoning
1 tablespoon salt
½ tablespoon black pepper
½ tablespoon granulated garlic
1 teaspoon ginger powder
1 teaspoon smoked paprika
1 teaspoon ground coriander


Sauce
1 tablespoon plus, as needed, sesame oil
3 tablespoons reduced-sodium soy sauce
1 cup vegetable or pork broth
1 tablespoon rice vinegar
2-3 tablespoons brown sugar
½ tablespoon Sriracha, to taste (optional)
1 tablespoon cornstarch
2 tablespoons water
Mix marinade ingredients together, whisky to ensure curry paste is incorporated. Add pork steaks to a resealable plastic bag, then pour marinade over steaks. Tightly seal and refrigerate at least 6 hours, and up to 24 hours (prepare these a day ahead to make tomorrow's dinner easier!)

Heat smoker to 275 F (or use an oven if you don't have a smoker). Mix seasoning ingredients together. Remove steaks from marinade. Shake off excess marinade, season with half the seasoning blend and place on smoker until they reach 185 F internal temperature, about 45 minutes to 1 hour.

When steaks are almost done (175 F) prepare rest of dish. In a shallow dish, spread rice noodles, then pour very hot water over them. Allow to soak for 6-8 minutes, or al dente.

In roasting pan, spread vegetables in a single layer, sprinkle with remaining seasoning, and roast in a 400 F preheated oven until softened; about 20-30 minutes. Or, add to a skillet with sesame oil and cook until softened.

Add 1 tablespoon sesame oil to a skillet over medium heat. Add semi-cooked veggies and al dente noodles. Add remaining sauce ingredients except corn starch and 1 tablespoon water. Cook until stock is evaporated by half. Whisk corn starch and water and add to skillet. Bring to a boil, then reduce heat to low and continue to cook for 2 minutes.

Portion noodles and veggies on plates, then top with pork steak. Serve.


Chef's Notes: Pork curry steak is a super flavorful additional to your dinner repertoire, and the price point is sure to leave everyone pleased. Pork steaks are cut from pork butts. However, instead of having to cook a pork butt for 12 hours to get it tender, you can put an amazing flavorful meal in front of the family in 2 hours or less. And guess what, most of that 2 hours is cooking time! I used a smoker for this, but it will be just as delicious if you slow roast the pork steaks in the oven at the specified temperature. Most important is the marinade and seasoning. These steaks benefit from a longer marination time, so marinating the night before is perfect.