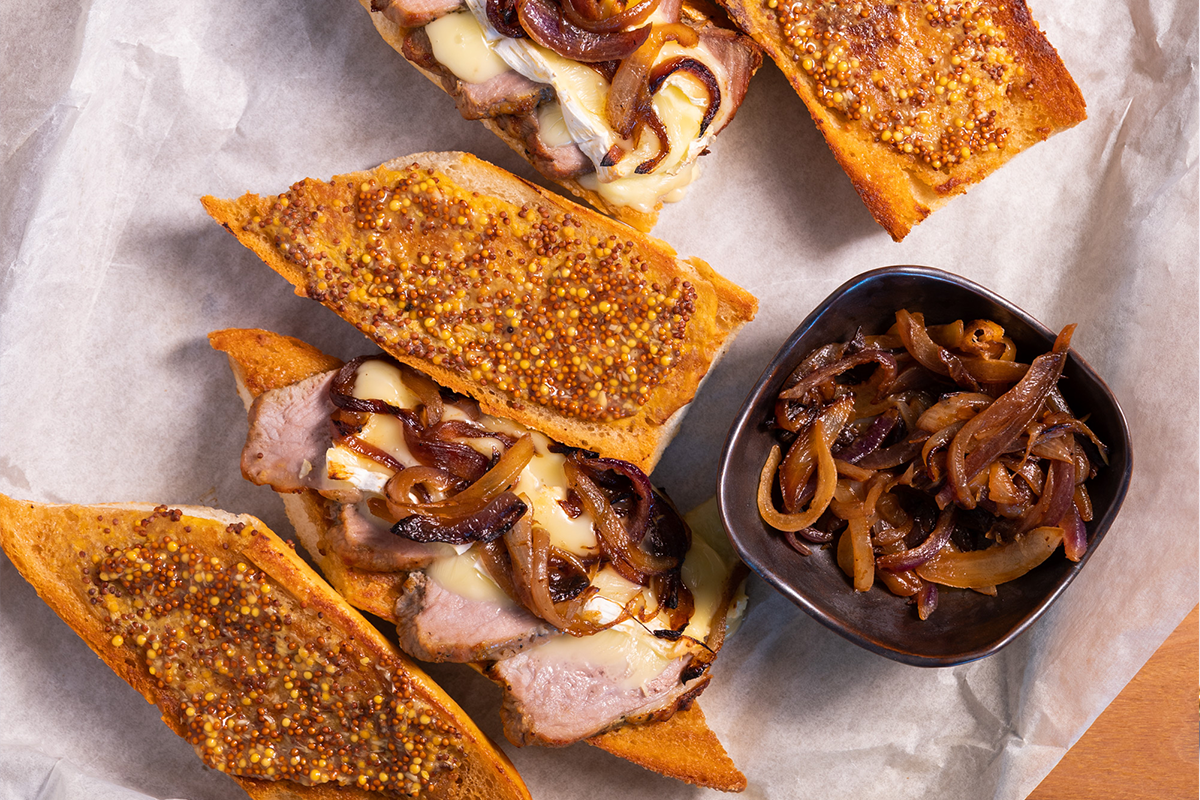 Make-and-Bake-Later Garlic Herb Pork Tenderloin Sandwich
Source: Chef Jean-Paul Bourgeois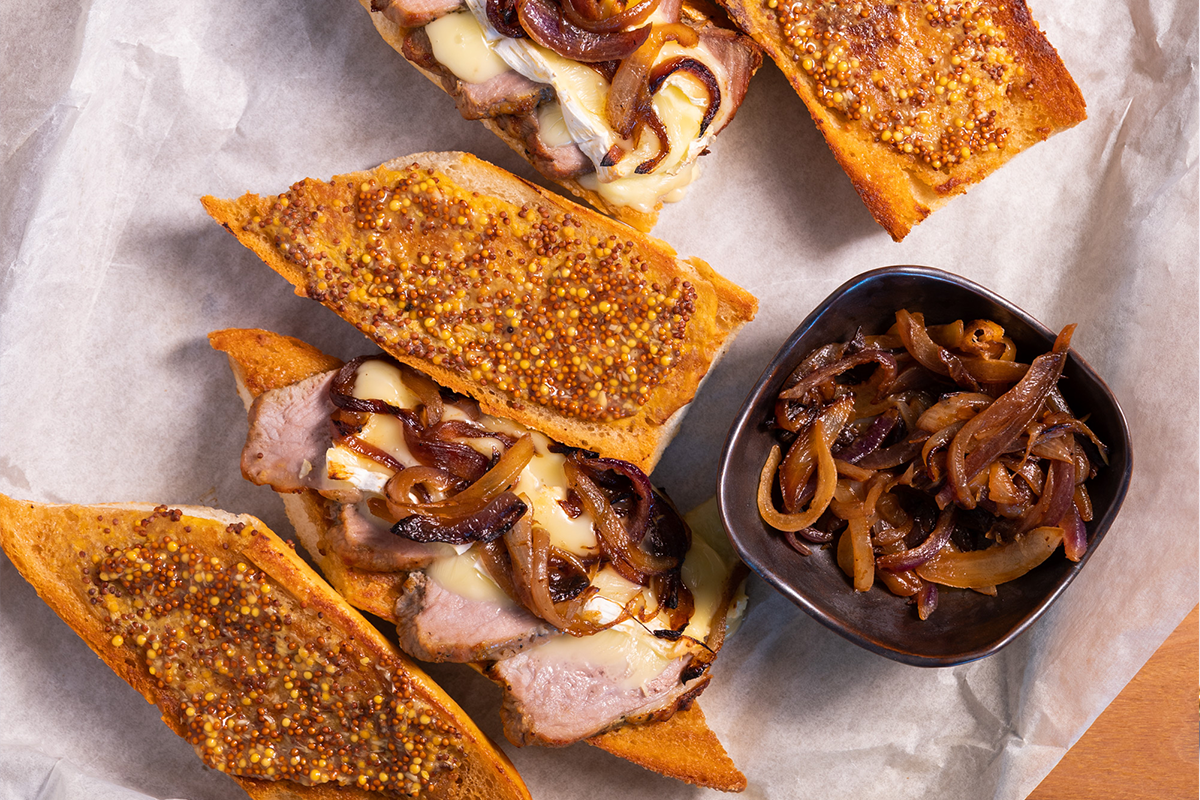 1 Prairie Fresh® Signature Cook-in Bag garlic herb pork tenderloin
Caramelized onions:
5 medium or large onions; yellow, white or red, sliced
1 tablespoon extra virgin olive oil
1/4 stick unsalted butter
1/4 cup chicken stock or water
1/4 teaspoon salt
1/2 tablespoon balsamic vinegar
2 tablespoons brown sugar (optional)
Sandwich:
3-5 Hoagie-style bread loaves or your favorite bread
1 wheel brie cheese
3 tablespoons whole grain mustard (per sandwich)
1/4 cup caramelized onions (per sandwich)
1/4 stick butter, unsalted, melted
1/4 stick butter, unsalted, left whole
1. Follow package instructions to cook Prairie Fresh Pork Signature Cook-in Bag garlic herb pork tenderloin. Let rest. Reserve cooked pork drippings from package in a mixing bowl.
2. Caramelized onions instructions: In a large heavy-bottom pot, add onions, butter and olive oil. On low heat, slowly soften onions while stirring occasionally. Once onions start to brown and any brown spots start forming in the pan bottom, add 1-2 tablespoons water or chicken stock and remove with a wooden spoon as needed. Continue to cook onions on low heat until mahogany color and the onions are sweet and soft. Add balsamic vinegar and salt. Cook for an additional 3 minutes. Add optional brown sugar. Remove from heat and cool.
3. With a bread knife, slice your bread into halves. Lightly butter each piece of the interior of the bread. Smear mustard on each side of the bread.
4. Slice your pork tenderloin into medallions about 1/4" thick or less. Toss the tenderloin slices in the reserved pork drippings.
5. Shingle the tenderloin slices on bottom half of sliced bread loaf. Add a generous scoop of caramelized onions on top. Lay slices of brie cheese on top of the onions. Put the top of the bread on and gently press down.
6. Brush aluminum foil with melted butter and wrap each sandwich.
7. This sandwich can be refrigerated for up to 72 hours or frozen for 3 months.
8. If frozen, thaw overnight in the refrigerator. Preheat oven to 350 F. Reheat for 20 minutes. Sandwich should be hot, moist and gooey when served.
Chef's note: Because this sandwich is a make-and-bake-later hot sandwich that can even be frozen. It's important to add plenty of moisture and fat when building the sandwich and why the butter, mustard, caramelized onions and brie cheese are so important.