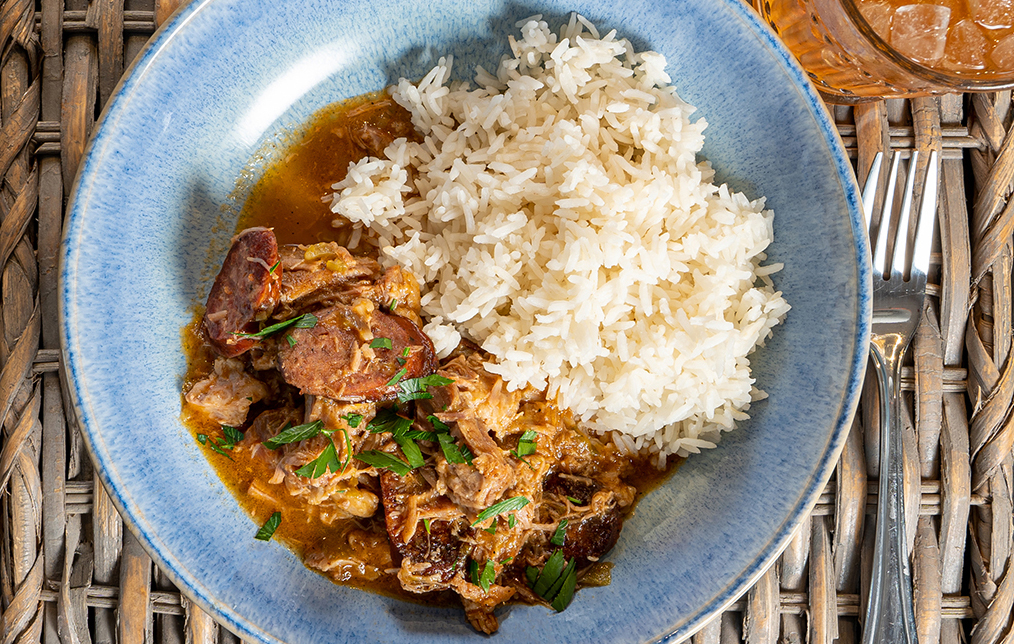 Source: The National Pork Board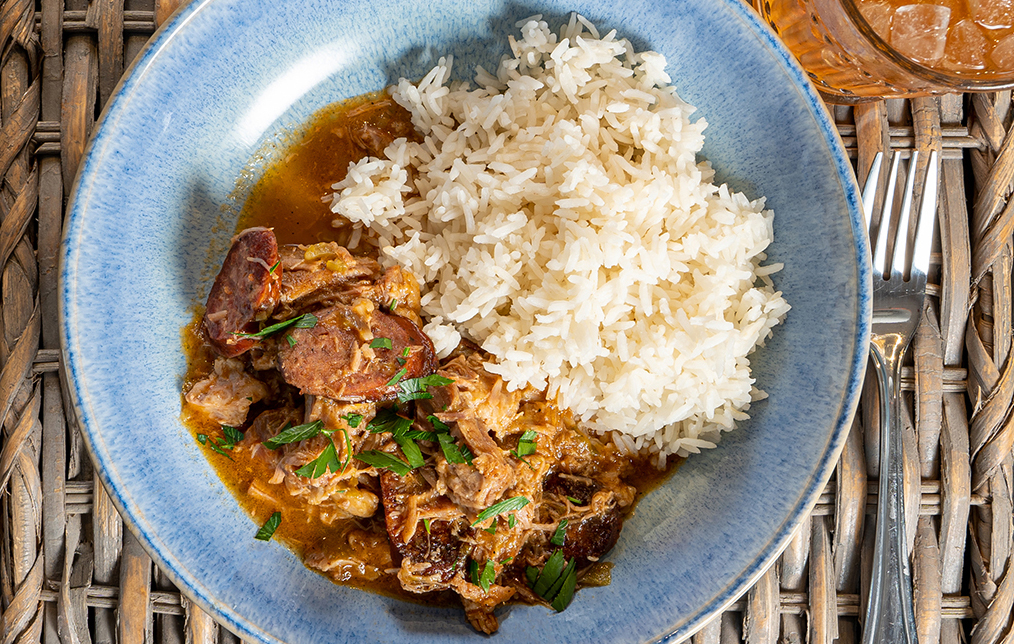 4 pounds Prairie Fresh® pork shoulder (3-4 pounds)
3 tablespoons vegetable oil (plus 1 teaspoon vegetable oil, divided)
14 ounces andouille sausage (cut into half-moons)
1 tablespoon Cajun seasoning (plus more to taste)
6 tablespoons all-purpose flour
1 green bell pepper (diced)
2 stalks celery (chopped)
1 medium onion (diced)
3 cloves garlic (minced)
2 tablespoons tomato paste
8 cups broth (chicken, vegetable, etc.)
2 bay leaves
½ teaspoon paprika
¼ teaspoon cayenne pepper (or more to taste)
Heat 1 teaspoon oil in a large Dutch oven (at least 6 quarts) or heavy bottom pan over medium high heat. Add andouille sausage and sauté until browned, about 5 minutes. Remove sausage and set aside.
Cut your pork shoulder into 5-6 chunks and season with 3 teaspoons Cajun seasoning. Place the pork in the Dutch oven and sear on all sides. You do not need to cook the pork all the way through. Transfer to the plate with the sausage.
Turn heat down to medium. Add remining oil to Dutch oven and sprinkle in flour. Stir constantly until there is no visible flour remaining, meanwhile scraping up any bits on the bottom of the pot. Continue stirring your roux until it darkens to the color of peanut butter, 10-12 minutes.
Add your bell pepper, celery, and onion and sauté until vegetables are tender, 5 minutes. Stir continuously making sure that your roux does not burn. Add your garlic and stir for 30 seconds, or until fragrant. Add the tomato paste and sauté until incorporated.
Pour 2 cups of broth in the Dutch oven and stir until the mixture incorporates and begins to thicken. Add your remining broth, Cajun seasoning, bay leaves, paprika, and cayenne pepper.
Return the sausage and pork shoulder to the Dutch oven and bring to a boil. Turn the heat to medium low and simmer for 2 hours.
Transfer the pork shoulder pieces to a cutting board and shred as desired then return to the pot.
Remove the bay leaves, adjust seasonings if needed, and serve over white rice.