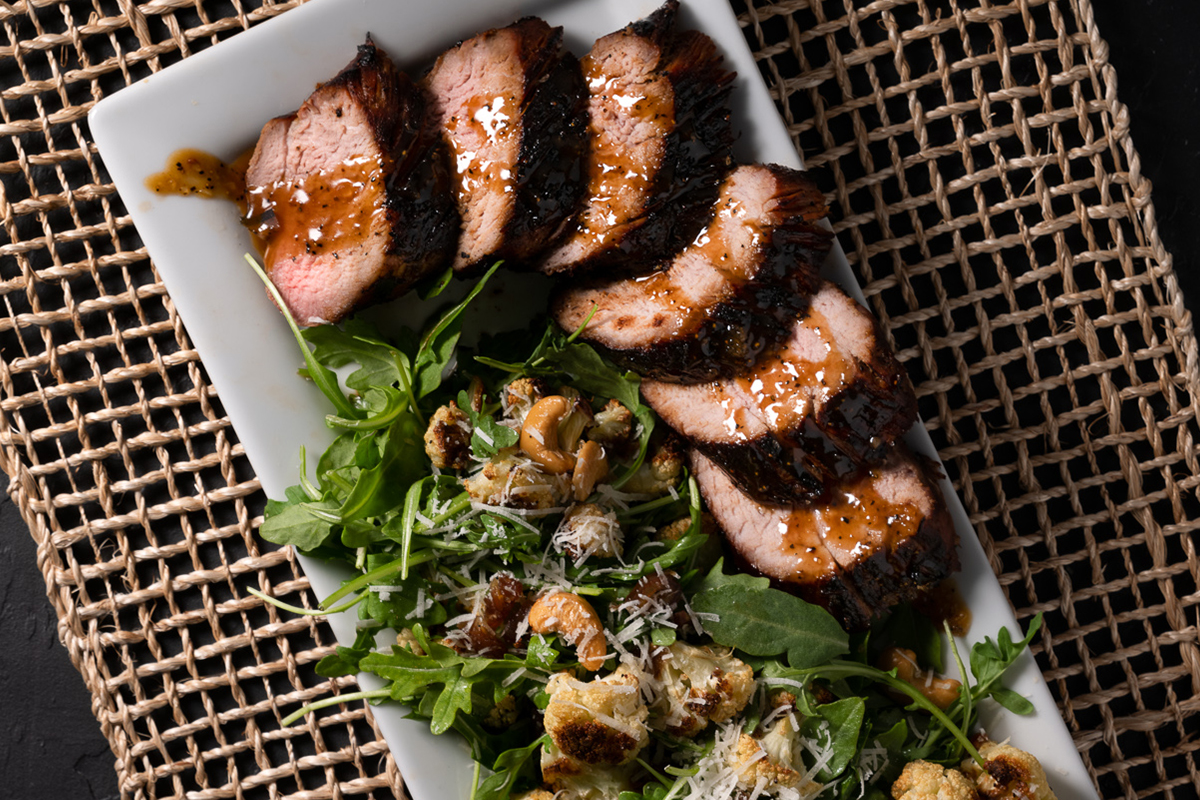 Grilled Vanilla Soy Pork Tenderloin with Charred Cauliflower Salad
Source: Chef Chris Evangelides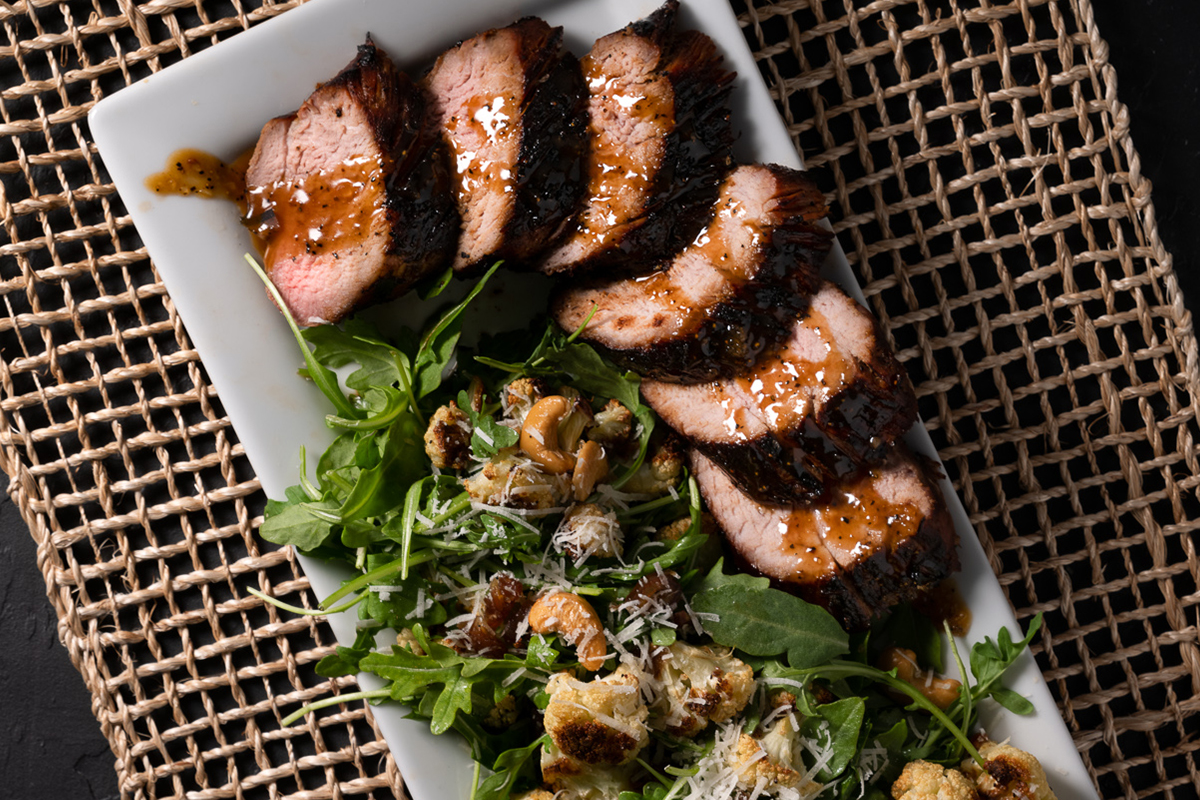 1 Prairie Fresh USA Prime™ pork tenderloin
Vanilla Soy Brine:
6 cups water
2 bay leaves
3 garlic cloves, smashed
1 tablespoon coriander seeds
1 tablespoon black peppercorns, whole
2 teaspoons vanilla extract
Vanilla Soy Butter Glaze
3 tablespoons butter, unsalted, melted
1 teaspoon lemon juice, freshly squeezed
1 teaspoon honey
¼
teaspoon vanilla extract
Charred Cauliflower Salad:
1 head cauliflower, approximately 2-3 pounds
3 tablespoons extra virgin olive oil
2 teaspoons kosher salt
2 tablespoons lemon juice, freshly squeezed
2 tablespoons extra virgin olive oil
3 cups arugula, loosely packed
2 tablespoons Parmesan-Reggiano, finely grated
In a medium sauce pot, add half the water, brown sugar, kosher salt, soy sauce, bay leaves, garlic, coriander, black peppercorns and vanilla. Cook over high heat, stirring occasionally. Once the salt and sugar have dissolved, remove from the heat and add remaining water. Chill brine. Once brine is cold, add tenderloin, cover and refrigerate for 4 hours.
Remove the tenderloin from the brine and rinse lightly under cold water. Pat dry and place back in the refrigerator until about a half an hour before grilling. Preheat grill.
To prep for the charred cauliflower salad, preheat oven to 450 F.
Cut cauliflower head in half and removing the core. Cut cauliflower roughly in 1-inch florets and place in a medium-sized bowl. Make sure cauliflower florets are dry.
Drizzle with extra virgin olive oil, salt and pepper. Mix well and place on a sheet tray, spread evenly to ensure consistent cooking. Place the tray in a preheated oven at 450 F for 13 to 15 minutes until florets are charred on the edges. Remove from oven and set aside at room temperature.
In the same mixing bowl used to toss the cauliflower florets, add the freshly squeezed lemon juice, olive oil, cashews and dates.
While grill is preheating, make the vanilla soy butter glaze, by adding ingredients in a small sauce pot or in the microwave-safe bowl. Melt on stove top or in the microwave for about 45 seconds. Stir ingredients together.
To cook pork, baste a light layer of glaze evenly across the raw tenderloin. On a medium-high section of the grill place the pork. About every 2 to 3 minutes rotate pork and baste with the glaze. Once pork reaches an internal temperature of about 145 F remove from the grill and baste one last time. Rest pork for 15 to 20 minutes before serving.
While the pork rests, mix and toss arugula, parmesan cheese and cooked cauliflower to finish salad.
Slice pork tenderloin to about ¾ inch thick and shingle on the plate. Finish by placing a serving of the charred cauliflower salad next to it.
Chef Note: Vanilla and soy have always been a combination of flavors that I love eating together. I found the natural sweet nuances of vanilla pair perfectly with the complex umami flavor of soy. Pork is a great canvas for these flavor profiles and the slight bitterness from the charred cauliflower and the peppery bite you get from arugula bring the whole dish together.