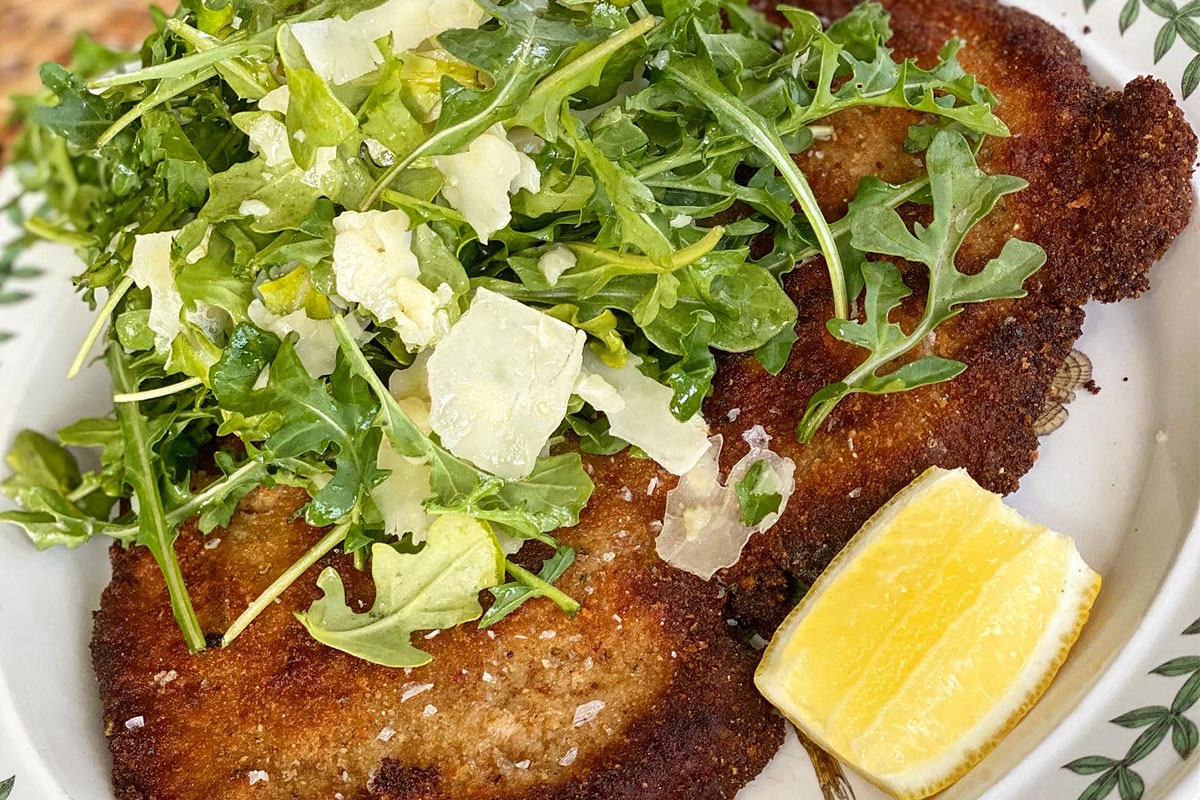 Crispy Pork Cutlets with Lemon, Parmesan & Arugula Salad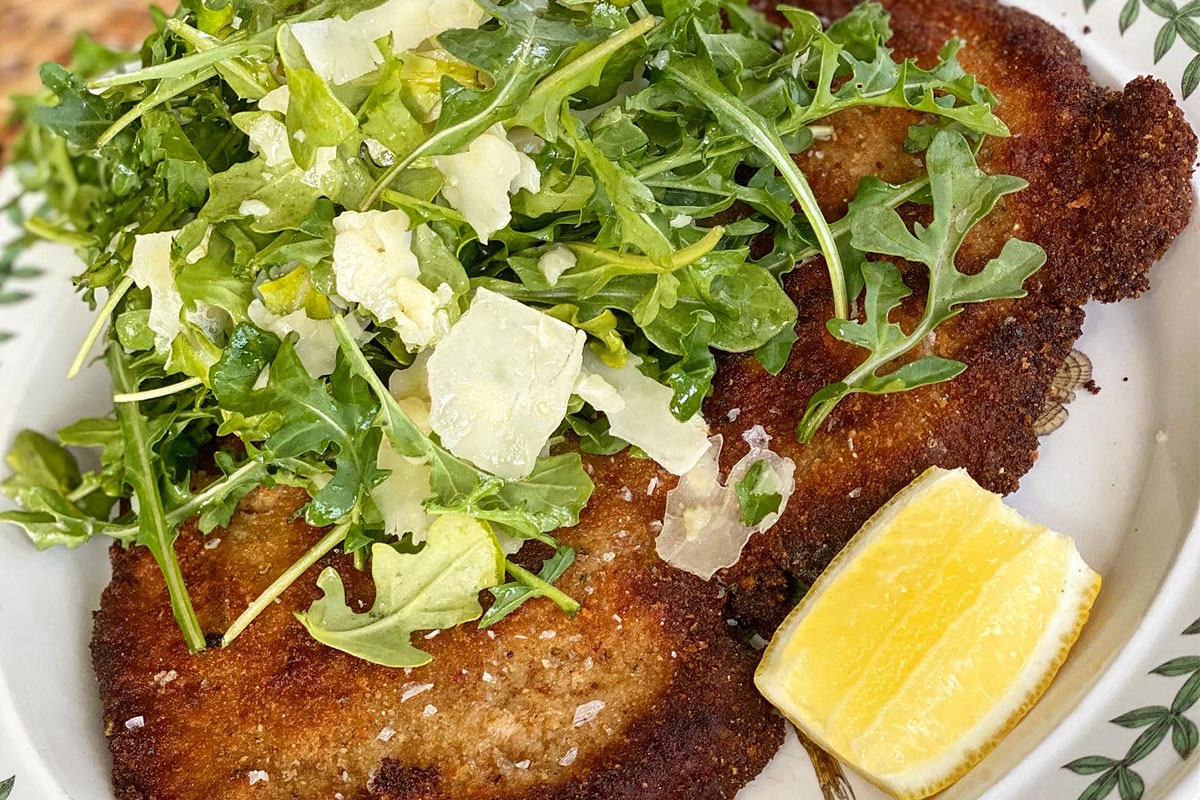 4 Prairie Fresh® Boneless Pork Chops, 6 oz. each
1/2 cup all purpose flour
2 whole large eggs, beater
2 1/2 cups seasoned breadcrumbs
2 cups vegetable oil
Kosher Salt, to taste
Ground Black Pepper, to taste
Arugula, Parmesan and Lemon Salad
5 oz. container baby arugula
1/4 cup extra virgin olive oil (EVOO)
1 cup shaved parmesan
1 Tbsp. fresh lemon juice (l lemon, juiced)
4 lemon wedges (1 lemon cut in quarters)
Salt & Pepper, to taste
Prepare three rimmed plates for "3-stage breading procedure." One plate with flour, second plate with beaten egg and the third plate seasoned breadcrumbs.
Place your boneless pork chops on a cutting board and, using your knife, slice them open to "butterfly" while still keeping them intact. This will make the process of pounding much easier. Tear an 18-inch piece of plastic wrap and place on your countertop. Place one of the butterflied pork chops in the center of the plastic and cover with another 18-inch-long piece of plastic wrap. Using a meat mallet or a good rolling pin, beat and flatten the pork chop until it is evenly 1/4 of an inch thick. Repeat this process for the remaining three pork chops.
Season the pork cutlets with salt and pepper and begin breading cutlets one at a time. First, place the pork cutlet in flour to generously coat on all sides (this is to get the egg to stick to the pork cutlet). Next, transfer the pork cutlet dredged in flour to the beaten eggs. Allow the floured pork cutlet to sit in the egg mixture for 30 seconds per side so that the flour absorbs the beaten egg and sticks to the entire cutlet. Finally, transfer the egg-dipped pork cutlet to the seasoned breadcrumbs so that the breadcrumbs stick to the egg. Flip the cutlet over and press into the breadcrumbs to get the reverse side coated. Transfer the breaded cutlets to a plate and allow to sit for 5 minutes before cooking.
Warm 2 cups of vegetable oil in a large saute pan over medium heat. Heat the oil to 325 F and carefully place two of the breaded cutlets into the oil (DO NOT drop into the oil, or a serious burn or oil fire may result). Cook for 3 minutes. Then, using a pair of metal tongs, carefully flip the cutlets to finish cooking the other side for an additional 3 minutes. Transfer the cooked breaded cutlets to a wire rack and season with salt. Serve with arugula salad.
Place the baby arugula with EVOO, lemon juice and shaved parmesan in a medium-sized mixing bowl. Season with salt and pepper. Gently toss so as not to wilt the greens. Serve with the crispy pork cutlets and garnish with a lemon wedge.