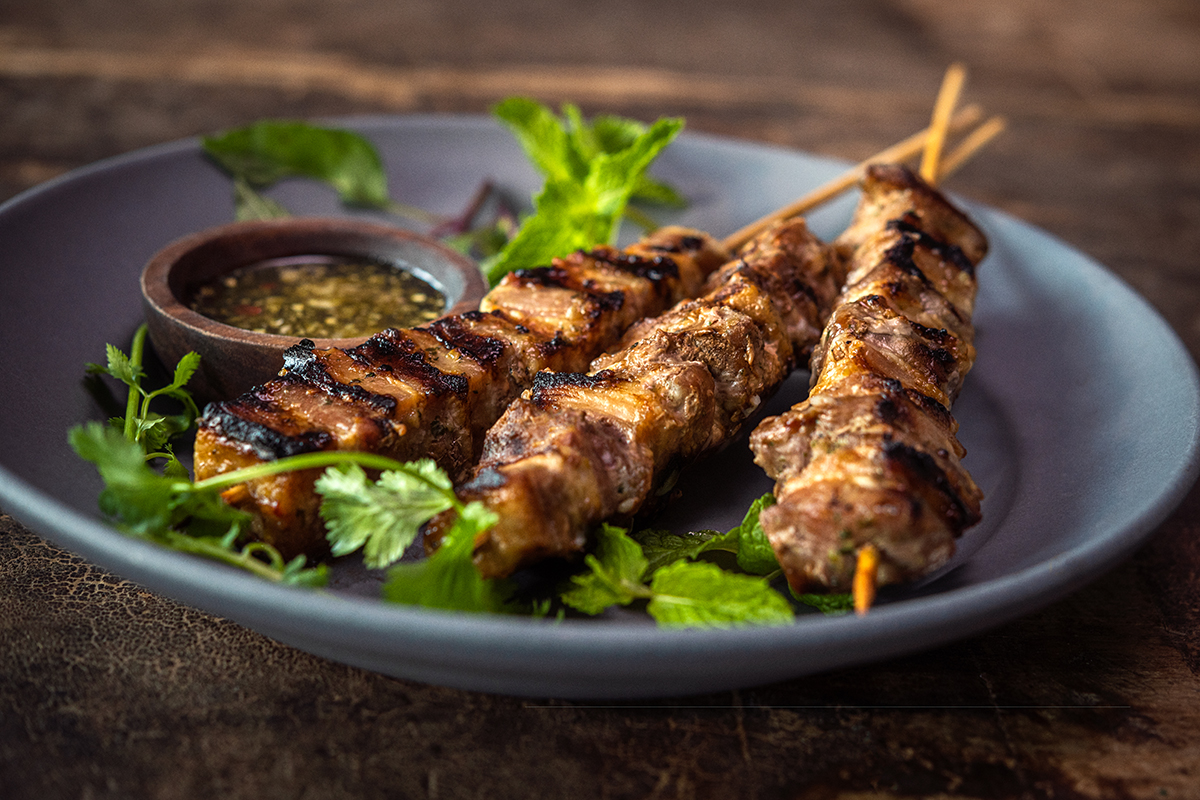 Mu Ping Grilled Pork Skewers
Source: National Pork Board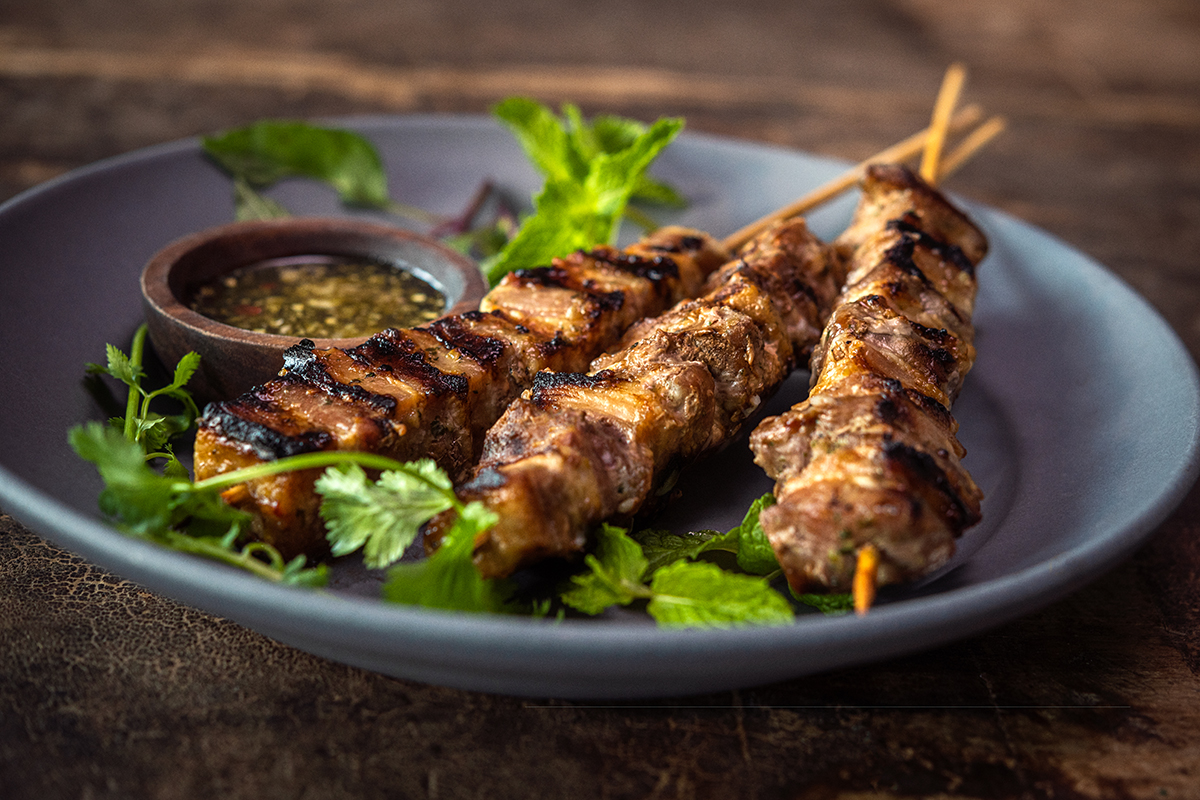 2 pound Prairie Fresh® pork belly (cut into 1/2 inch x 1 inch, bite sized pieces
1/2 cup coconut milk (for brushing on the grill)
6 cloves garlic
2 tablespoons cilantro
1/2 teaspoon ground white pepper
3 2/3 tablespoons light brown sugar
2 tablespoons oyster sauce
4 tablespoons fish sauce
2 tablespoons soy sauce
1 tablespoon corn starch
1 teaspoon red chili flakes
2 tablespoons cilantro leaves (finely chopped)
1 small shallot (diced)
1 lime (juiced)
7-8 bamboo skewers
Slice belly against the grain into bite-sized pieces, roughly 1/2 inch thick by 1-2 inches long. Place in a sealed plastic bag.
In food processor place all ingredients for the marinade and blend until smooth. Pour into plastic bag with meat and marinade overnight in refrigerator. Marinade ingredients: 6 cloves garlic, 2 tablespoons cilantro, 1/2 teaspoon ground white pepper, 2 tablespoons light brown sugar, 2 tablespoons oyster sauce, 2 tablespoons fish sauce, 1 tablespoon soy sauce, 1 tablespoon corn starch.
For the dipping sauce (Nam Jim Jaew): Mix all ingredients together until the sugar has dissolved. Place in a covered container in the refrigerator until ready to use. Dipping sauce ingredients: 2 tablespoons fish sauce, 2 teaspoons light brown sugar, 1 teaspoon red chili flakes, 2 tablespoons chopped cilantro leaves, 1 diced shallot, 1 juiced lime, 1 tablespoon soy sauce.
To grill meat: soak your bamboo skewers in water for at least 20 minutes before threading the meat on them.
Preheat your grill to a medium-high heat.
Remove the meat from the refrigerator and thread the pieces onto the soaked skewers. Press the pieces of meat together tightly to form a fairly compact and uniformly shaped piece of meat on the skewer.
Place the meat on the grill and brush with some coconut milk. Cook for 2-3 minutes, then flip the skewers and brush again with coconut milk.
Continue cooking over medium heat until internal temp of 145 F is reached, let rest 3 minutes and serve.