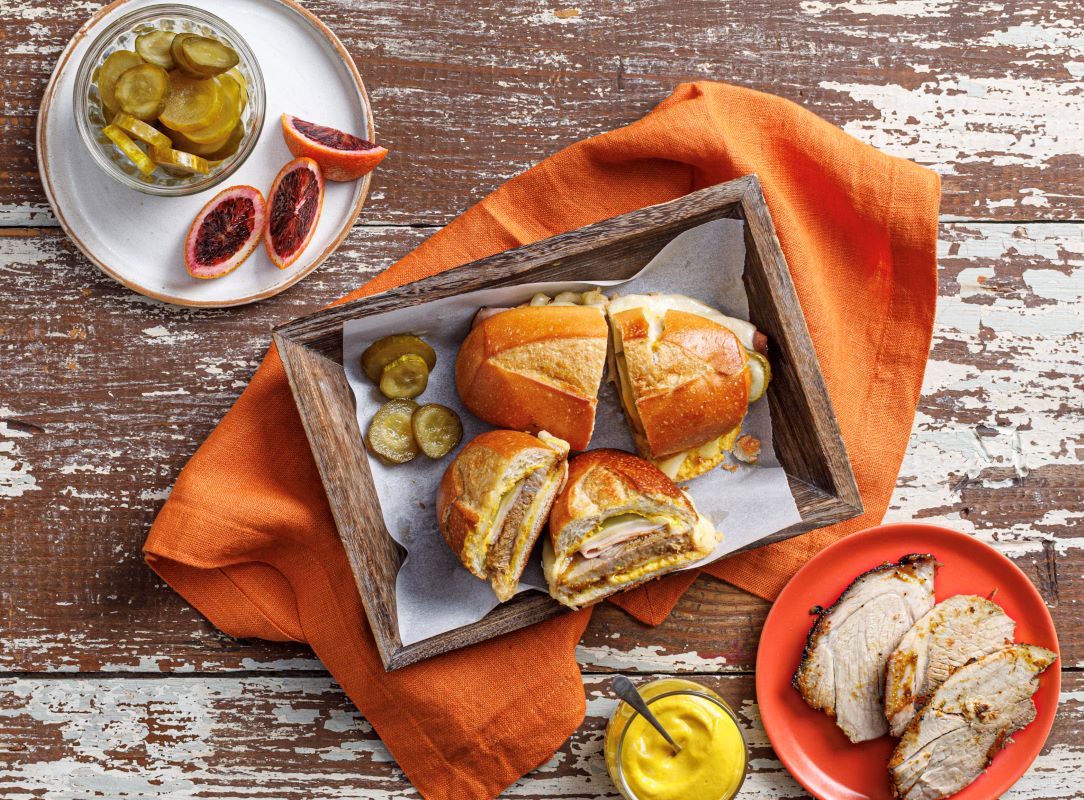 Cubanos with Blood Orange Marinated Pork
Source: Pitmaster Joe Pearce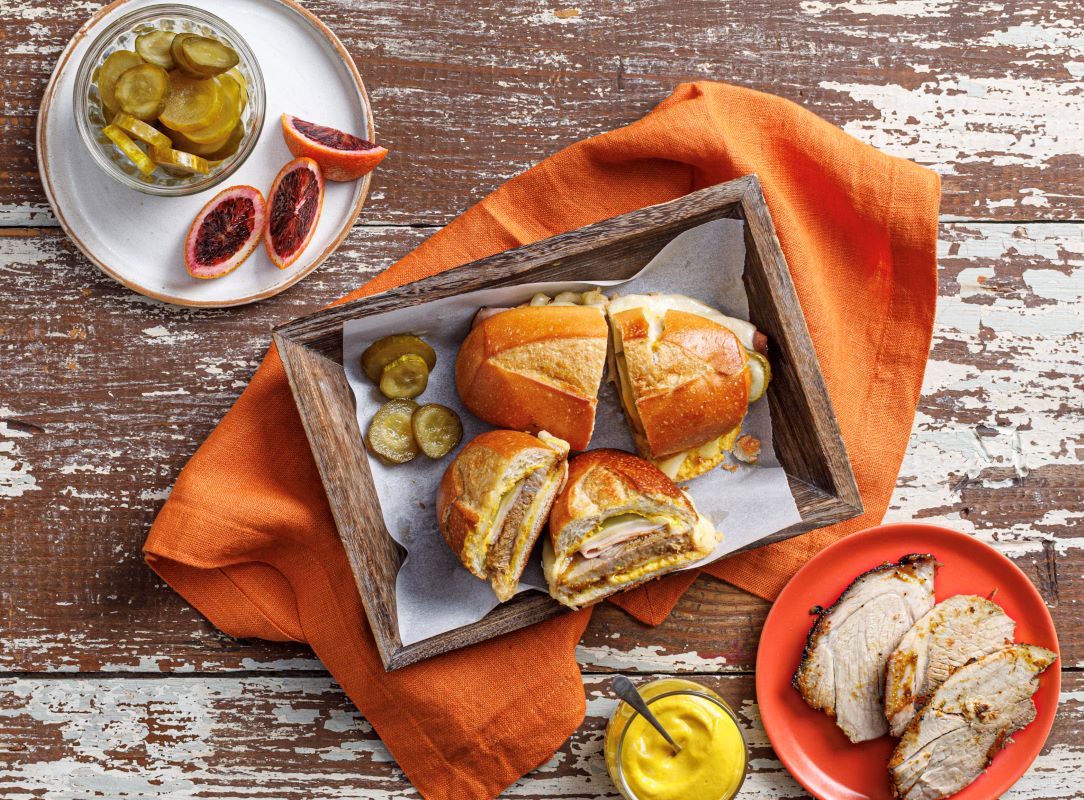 4 pounds Prairie Fresh® boneless pork shoulder picnic roast
3 whole blood oranges
For the marinade:
3/4 cup extra virgin olive oil
1 cup cilantro
1 tablespoon coriander
1 tablespoon blood orange zest
1 tablespoon blood orange juice
1/2 cup lime juice
3-4 mint leaves
6 garlic cloves (peeled)
1/2 tablespoon dried oregano
2 tablespoons cumin
1 teaspoon each salt and black pepper
For the assembly:
8-10 mini hoagie rolls
2 pounds sliced ham
1 cup dill pickles (sliced)
1 cup yellow mustard
2 cups melted butter
16-20 slices Swiss cheese (2 slices per sandwich)
In a food blender, add olive oil, cilantro, coriander, blood orange zest, blood orange juice, lime juice, mint, garlic, oregano, cumin, salt and pepper. Blend until smooth.
Place pork butt into a large plastic bag and pour in the marinade. Place pork in the refrigerator and let set overnight, or at least 8-10 hours.
Preheat the oven to 450 degrees F. Place pork in an oven-safe dish and pour the marinade over the top of the meat. Cut 2 blood oranges into thin strips and place on outside of the pork butt. Cook uncovered for 30 minutes. Lower the heat to 400 degrees F and baste the pork every 30 minutes with the pan juices until the internal temperature is 155-165 degrees F. (roughly 1 1/2-2 hours). Remove from oven and loosely tent the pork for 15-30 minutes.
Reduce the oven temperature to 350 degrees F. In a 9x13-inch baking dish, brush the bottom and sides of dish with melted butter. Cut the hoagie rolls in half and place bottom bun in pan, cut side facing up.
Slice the cooked pork butt into 1/4-inch thick slices.
Assemble the Cubano sandwich starting with placing sliced pork on the bottom bun, followed with sliced ham, 2 slices Swiss cheese, 2 to 3 pickle slices; then thinly spread yellow mustard on the inside of the top bun.
Once all sandwiches are assembled in the pan, use a slightly smaller baking dish to smash the sandwiches down. With the rest of the melted butter, brush the top of the buns. Cover with foil and bake in the oven for 15-20 minutes or until cheese is melted. Uncover the dish and place back in the oven for 10 minutes to toast the top bun.
Remove the sandwiches from the pan. Cut sandwiches in half and serve hot.