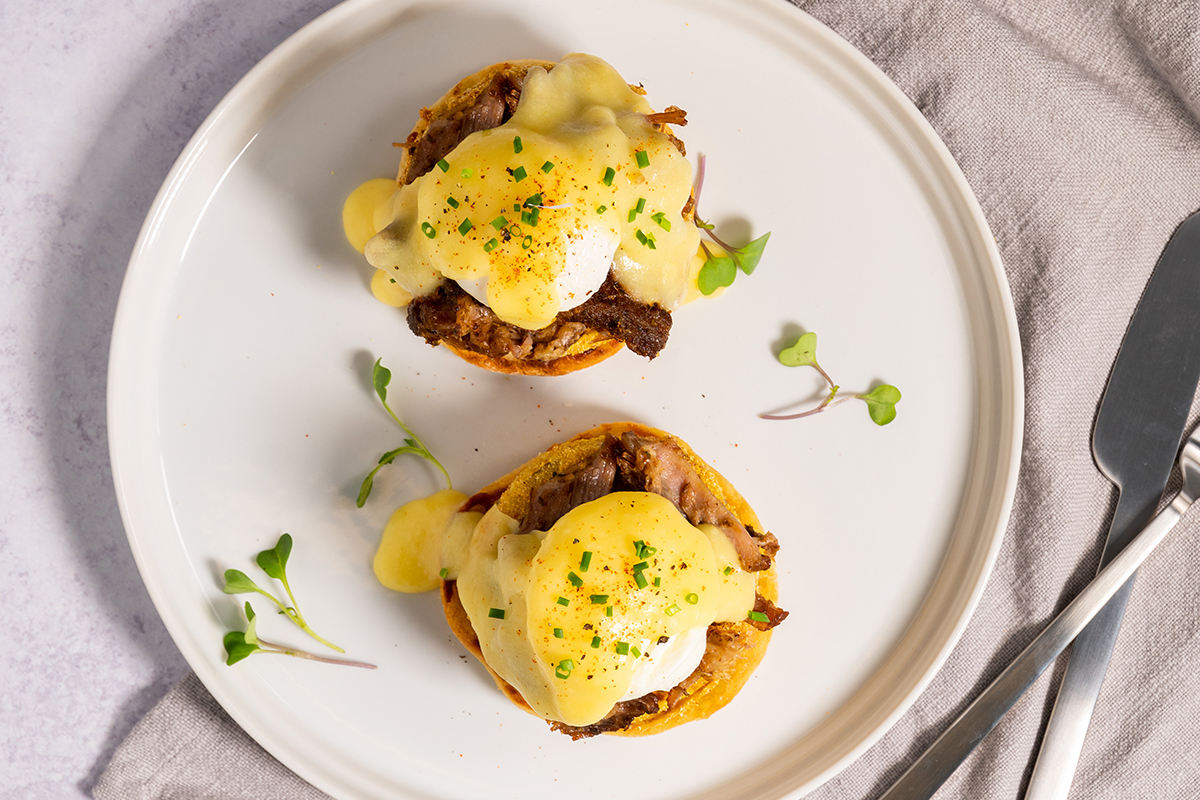 Cochon and Fried Green Tomato Benedict
Source: The Shed Barbeque and Blues Joint™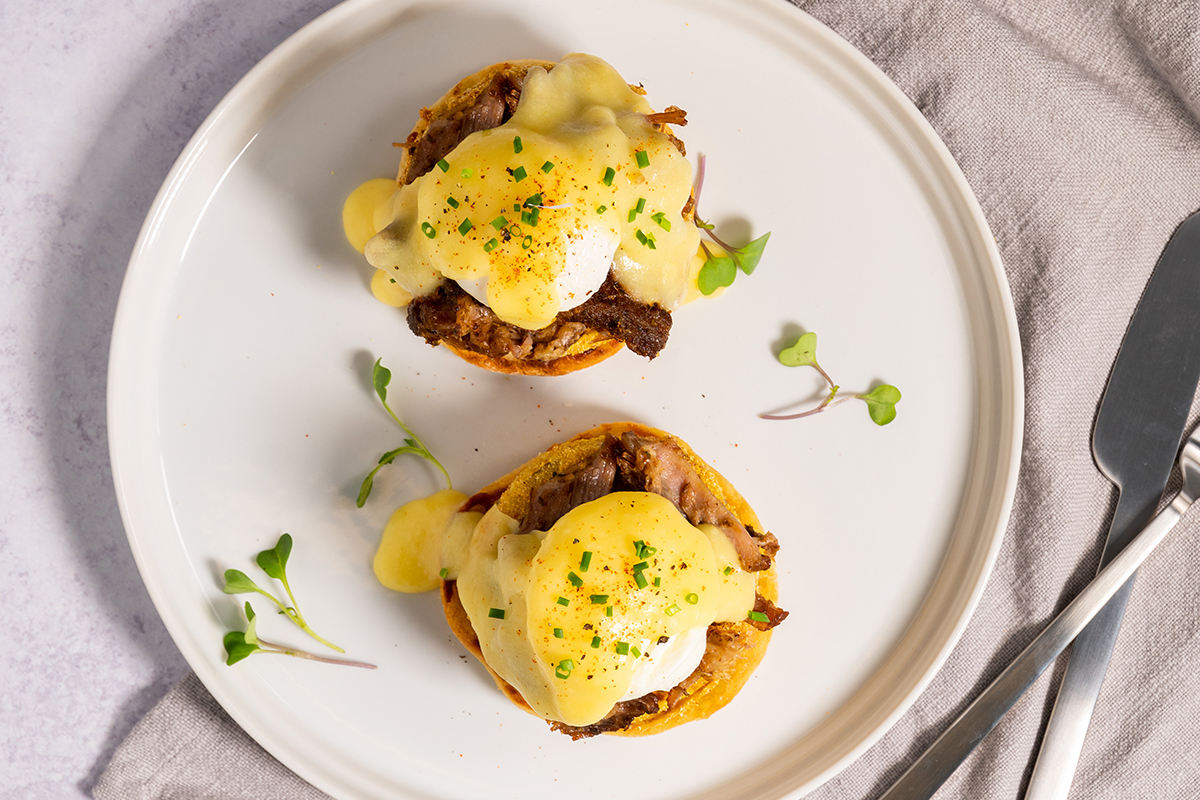 1 Prairie Fresh® pork boneless butt
Cajun Rub:
2 tablespoons salt
2 teaspoons paprika
2 teaspoons dried oregano leaves
1 teaspoon cayenne pepper
2 teaspoons black pepper
4 teaspoons chili powder
1 teaspoon garlic powder
1 teaspoon onion powder
1 cup creole mustard
3 large green tomatoes
1/2 cup all-purpose flour
1/2 cup yellow corn meal
1 teaspoon Cajun rub
8 eggs (2 for frying and 1 per serving of Benedict)
1/4 cup buttermilk or whole milk
1 quart vegetable or canola oil for frying
1 quart cold water
1 tablespoon salt
1 tablespoon white vinegar for poaching eggs
2 cups Hollandaise sauce homemade or packaged
2 tablespoons butter
3 English Muffins toasted with butter
1. Cut pork butt into 4 equal size pieces and set aside.
2. Make Cajun Rub by combining the 8 listed spices, reserve 1 teaspoon Cajun Rub. Coat all areas of pork pieces generously with Creole Mustard then cover all areas of pork pieces with Cajun Rub. Use rub liberally, this will help to form a crispy bark during the smoking process.
3. Using a pellet cooker or other type of smoker, cook pork at 300 F approximately 3 hours or until fork tender. Internal temperature will be around 195-200 F.
4. Remove pork from cooker and let rest on counter.
5. Slice green tomatoes in approximately 1/3" slices. Place in cold water bath (1 quart water and 1 tablespoon salt) for 20 minutes.
6. Make fry batter by combining flour, corn meal, and 1 teaspoon Cajun Rub in bowl.
7. In a separate bowl combine milk and 2 eggs lightly beaten.
8. Heat fry oil to 375 F.
9. Remove tomatoes from water bath and pat dry with paper towels. Dredge in egg mixture, then dry batter and place gently in oil. Be careful not to crowd the tomatoes. We suggest you let the bottom become golden brown before flipping. Approximately 2 minutes on each side. Be gentle. To0 much activity will cause batter to come off. Place fried tomatoes on paper towels until ready to build Benedict.
10. You will need 1 poached egg per serving of Cochon Benedict. Pro tip: Add 1 tablespoon vinegar to boiling water. This will help create a perfectly poached egg.
11. Pull pork pieces down by hand or using two forks until you have small juicy pieces. Reserve outside crispy bark to serve on the side. This recipe yields a large amount of delicious pulled pork with a versatile flavor. See "leftover tips."
12. Time to build! Start with toasted English muffin on the bottom. Add a slice of fried green tomato, a generous helping of pulled pork, and top with a poached egg and drizzle with warm Hollandaise sauce. Salt and fresh ground black pepper optional.
Laissez le bon temps rouler!!
Chef's Note: Cooking 1 whole Prairie Fresh pork butt allows for delicious leftovers, tender pork that can be used for a variety of meals such as Cajun Cochon Poboys. Reheat leftover pork and place on French bread loaf, top it with your favorite tangy coleslaw, add a dash of Louisiana hot sauce and WOW!