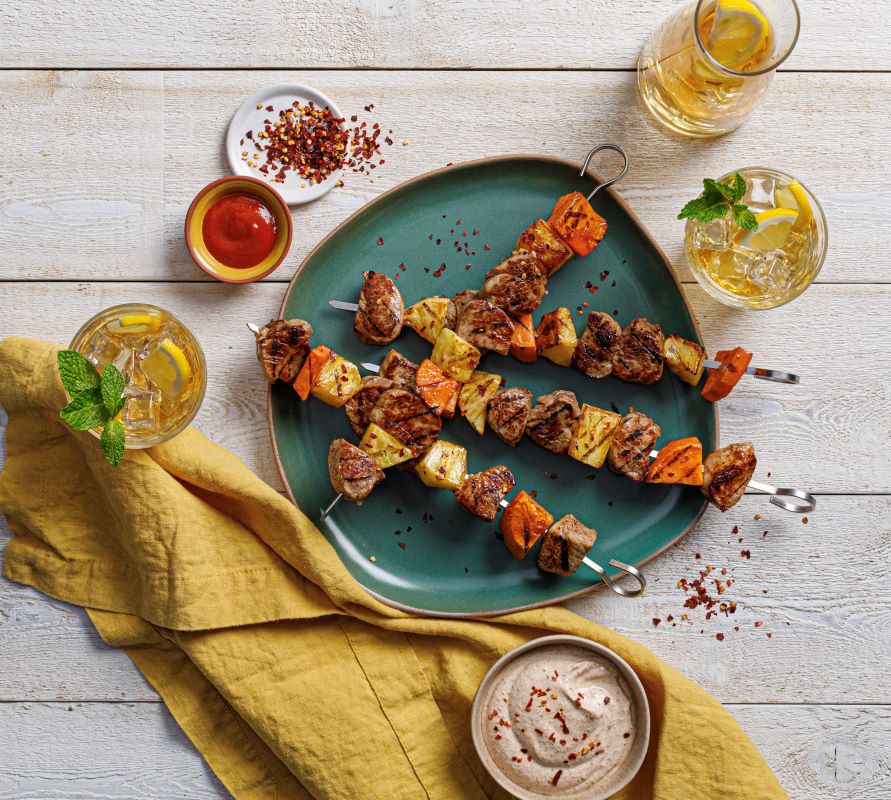 Pork, Pineapple and Sweet Potato Skewers
Source: Chef Jean-Paul Bourgeois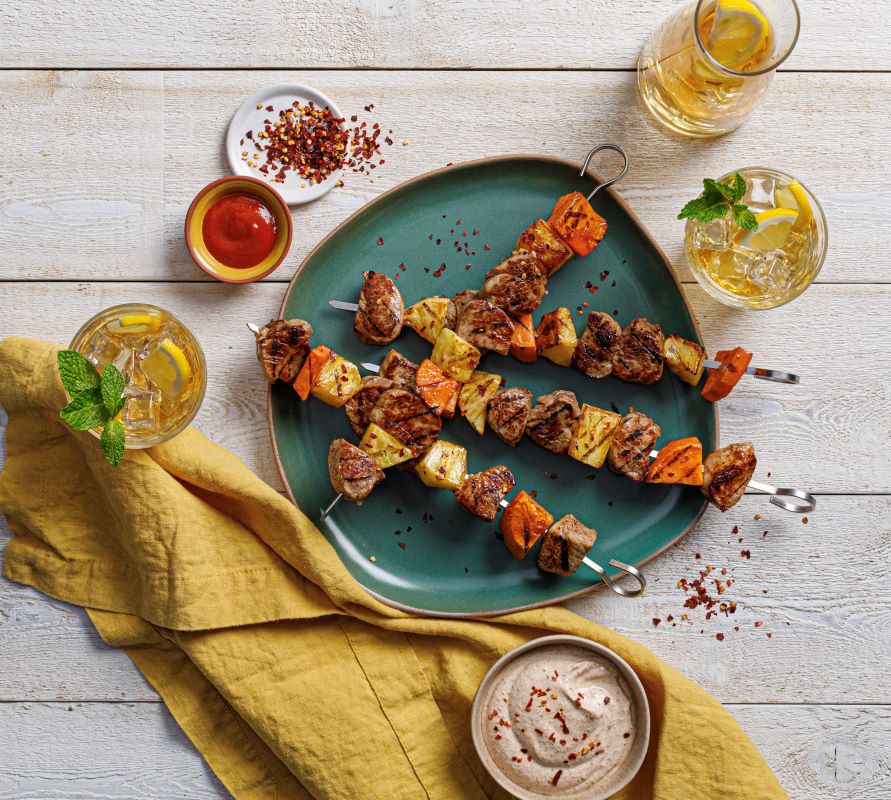 1 Prairie Fresh® pork tenderloin, cut in 1" cubes
1 pound pineapple cut in 1" cubes
1 pound sweet potato cut in 1" cubes
2 cups pineapple juice
3 tablespoons honey
1 tablespoon Sriracha sauce
2 tablespoons Worcestershire sauce
3 cloves crushed garlic
Wooden skewers or sugar cane sticks
For the pineapple chili yogurt dip:
1 cup whole fat plain Greek yogurt
1 tablespoon chili powder
1 teaspoon salt
1 teaspoon granulated garlic
1 teaspoon granulated onion
1 teaspoon black pepper
1/4 cup pineapple juice
Juice of 1 lime
To make marinade, combine pineapple juice, honey, Sriracha sauce, Worcestershire sauce and crushed garlic.
Place pork cubes in a plastic zipper bag. Cover with marinade and place in the refrigerator for 3 hours.
To make the yogurt dip, mix all the yogurt ingredients in a bowl, cover, and refrigerate.
In a small pot, boil sweet potato cubes with 2 tablespoon salt until al dente (about 5 minutes). Rinse under cool running water.
Once your pork has marinated, sweet potatoes are cooled and pineapple cubed, skewer each ingredient one by one. I prefer 6" metal or wooden skewers.
To cook, use a charcoal grill, gas grill, griddle, or cast-iron pan. Heat all to smoking hot.
Lightly brush vegetable oil on all sides of your loaded skewers and season with salt and pepper.
Once your grill is hot, prepare your grill grates or cooking surface by adding oil to a paper towel and hold with tongs to rub grates or cooking surface.
Add skewers to the grill over the hottest areas. Turn and cook on all sides, brushing with reserved marinade.
Once skewers are grilled on all sides, remove from the grill and serve with pineapple chili yogurt dip.