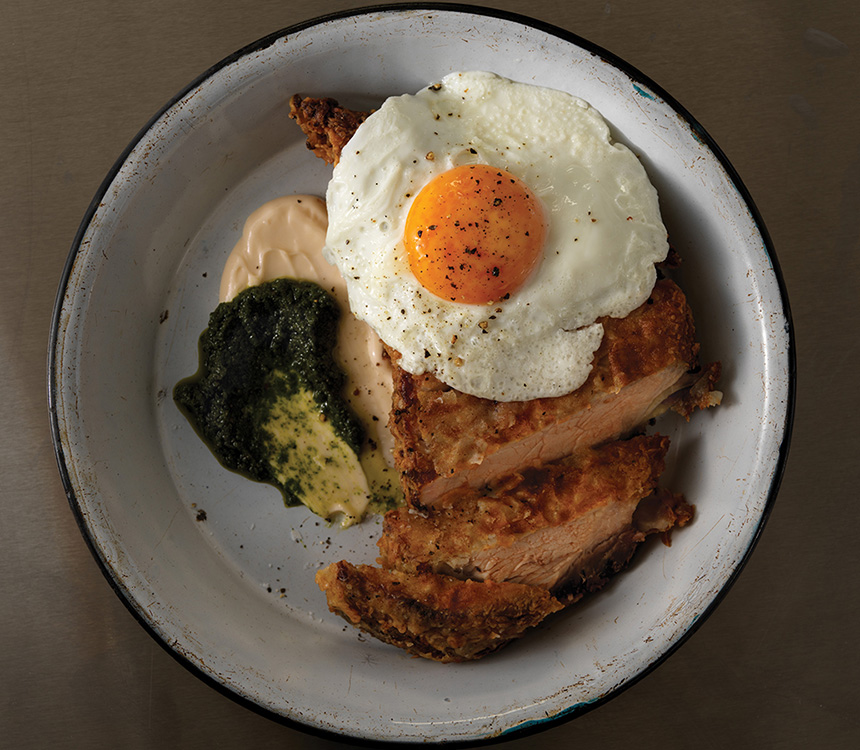 Country Fried Ribeye Pork Chops
Source: The National Pork Board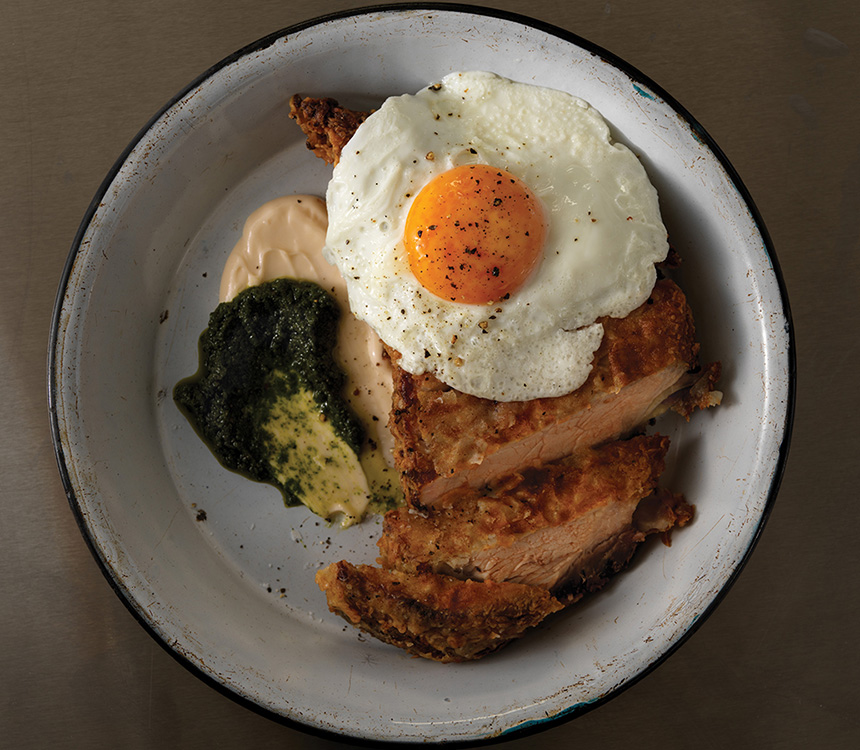 2 Prairie Fresh Natural® pork boneless loin rib end (1-inch thick)
1 cup buttermilk
1 cup flour (seasoned with salt and pepper)
Neutral oil
Canola oil
Sea salt (as needed)
2 fried eggs
For the red wine aioli:
2 egg yolks
1 whole egg
1/4 cup red wine vinegar
1/2 tablespoon sea salt
3/4 teaspoon Dijon mustard
2 cups Canola oil
For the chimichurri:
1 bunch parsley
1 cup mint leaves (packed)
1/3 bunch cilantro
1/4 cup shallots (peeled and diced)
4 cloves garlic (peeled)
1/2 tablespoon red pepper flakes
1/2 tablespoon sea salt
1/4 cup red wine vinegar
1/2 cup extra-virgin olive oil
To make the Red Wine Aioli: in a food processor, combine egg yolks, whole egg, red wine vinegar, salt, and mustard. Turn on the machine and add the oil in droplets to start, increase to a slow and steady stream to emulsify until thick.
To make the Chimichurri: cut the base of the parsley and cilantro bunches off to remove the tougher stems. Wash and dry all of the herbs thoroughly. Add all of the ingredients to a high powered blender, beginning with the liquid ingredients. Using the plunger, start the blender on low and gradually work up to high. Do not allow the carafe of the blender to get too hot and do not over process. Store the chimichurri with a layer of olive oil and cover to keep it form discoloring until ready to use.
Place a cast iron skillet over medium heat and add 1/2 inch of neutral oil to cover the bottom of the pan. Dip the boneless ribeye chops in buttermilk to coat and then dredge in the seasoned flour mixture. When the oil has reached 350 F, place the ribeye chops in the pan. Cook on both sides until golden brown (about 5 minutes per side) and the chops have reached an internal temperature between 145 F (medium-rare) to 160 F (medium). Allow to rest for 3 minutes.
To serve: swipe a tablespoon of red wine aioli across a plate and add a spoonful of chimichurri. Place a pork chop on the plate and top with a fried egg.