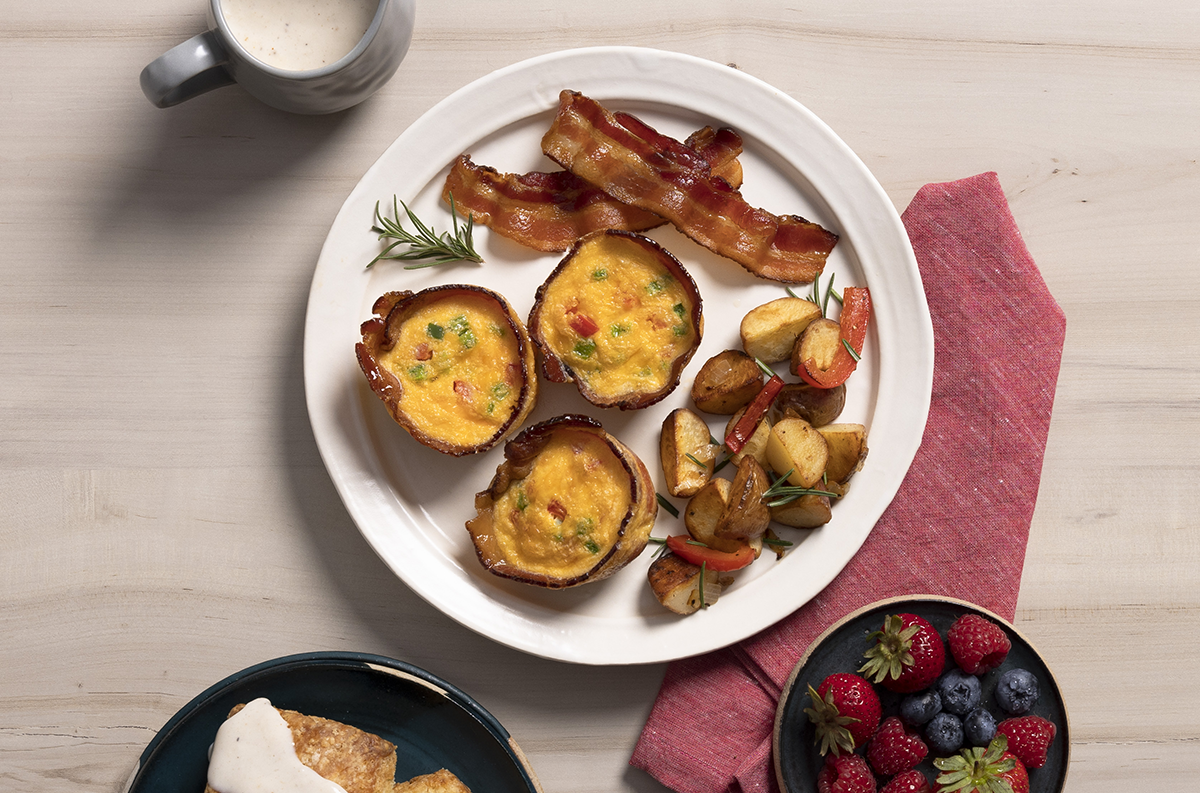 Full Midwest Pork Breakfast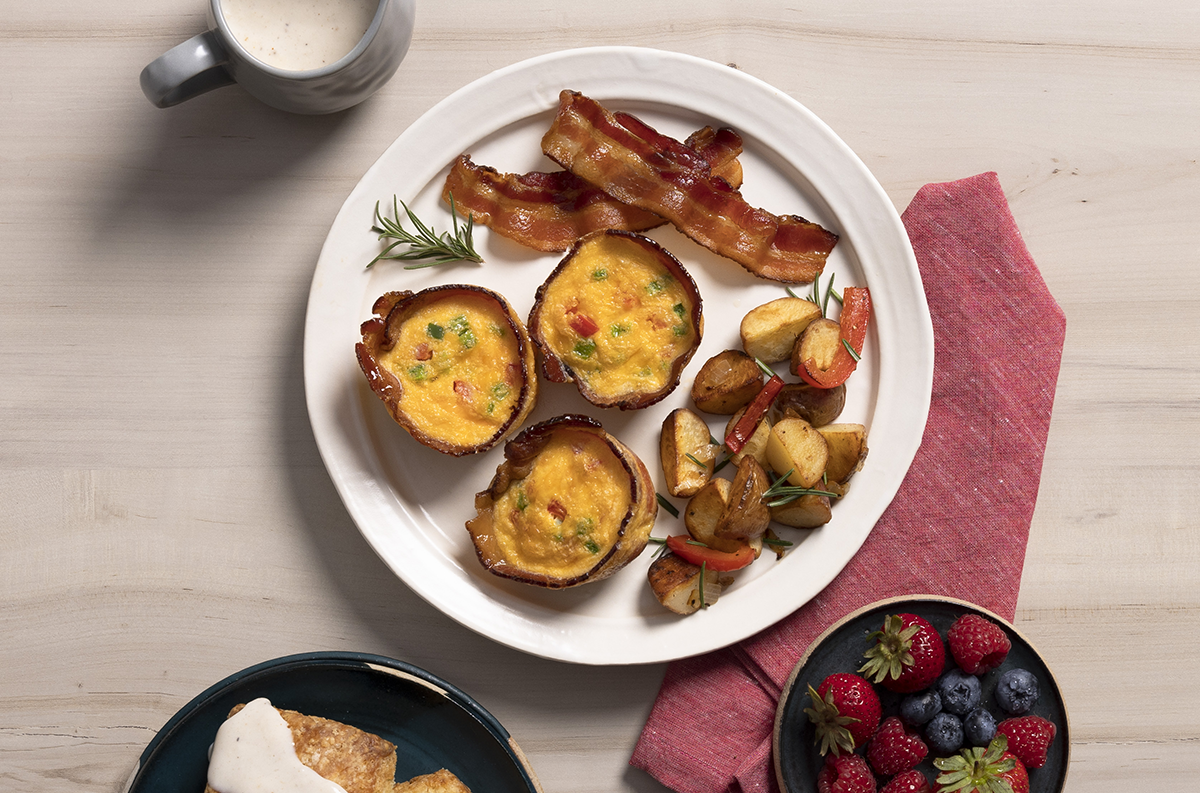 16 slices Prairie Fresh USA Prime® thick-cut applewood smoked bacon
8 biscuits, warmed
Cherry tomatoes, to be served for garnish, if desired
For the bacon cups
8 slices Prairie Fresh USA Prime® thick-cut applewood smoked bacon, about ¾ cooked
4 large eggs
1/3 cup heavy cream
½ red bell pepper, finely diced
1 tablespoon diced green chilis
13 cup cheddar cheese
Salt and pepper, to taste
For the breakfast potatoes
1 pound small red potatoes
½ yellow onion, diced
½ teaspoon garlic, minced
½ red bell pepper, cut into thin strips
1 tablespoon fresh rosemary, chopped
3 tablespoons canola oil or reserved bacon grease, separated
For the white gravy
2 cups milk
2 ½ tablespoons reserved bacon grease
3 tablespoons butter
1/3 cup all-purpose flour
1 teaspoon salt, to taste
1 teaspoon freshly ground black pepper, to taste
¼ teaspoon cayenne pepper, optional
Preheat oven to 350 F.
In a large skillet, cook 8 slices of bacon until about one-half to three-quarters cooked. Bacon should still be pliable, but beginning to brown. Set aside on a plate lined with paper towels. Cook 8 more slices until fully cooked, set aside on a separate lined plate. Pour bacon grease into a jar and reserve.
Quarter potatoes and boil for 15 minutes, or until softened but not cooked entirely. Drain and set aside. In a skillet, add 1 tablespoon canola oil or reserved bacon grease, onions, red bell pepper strips, and minced garlic. Cook until peppers are softened, and garlic is fragrant. Add 1 more tablespoon oil or bacon grease and add potatoes to skillet. Spread in a layer and allow to cook for 6-8 minutes without stirring. Stir to flip over potatoes, adding oil if necessary. Cook for another 6-8 minutes or until crispy. Place in dish for serving. Sprinkle with fresh rosemary. (Boiled potatoes may be cooked and drained up to two days before serving. Store covered in the refrigerator before the final cooking).
In a bowl, add all ingredients for the bacon cups except the bacon. Whisk. In a muffin tin, use one strip of the partially cooked bacon per muffin. Wrap the bacon in a circle around the interior of the tin, then lay over excess to cover the bottom. Repeat for remaining muffin tins. Pour in whisked egg mixture, and cook 15-18 minutes, or until "set" in the center. Remove pan from oven, allow to cool for 5 minutes, then remove each "muffin" with a knife around the edge. Egg mixture may be made up to 12 hours before cooking and refrigerated, then whisked before pouring into muffin pans.
To make the gravy while the eggs are cooking, heat 3 ½ tablespoons reserved bacon grease with 3 tablespoons butter in a medium saucepan over medium heat. Add 1/3 cup all-purpose flour and whisk thoroughly. Cook for 3-4 minutes while whisking to form a light roux. Add milk, 1/3 cup at a time, whisking and allowing mixture to thicken before adding the next 1/3 cup. After last milk is added, continue to cook until a gravy texture develops. Season with salt and pepper. Alternatively, prepare in advance, refrigerate in closed container, then warm in a stock pot with additional milk or water to thin to desired consistency.
To serve, place a bacon cup, potatoes, biscuit with gravy and one strip of fully cooked bacon and garnish with cherry tomatoes.
Chef's Notes: When it is brunch time, it's time to do brunch right! Follow these recipes to put an amazing Saturday or Sunday brunch in front of the family. Much of this can be prepped ahead, including the gravy! For biscuits, make your own, or buy some premade biscuits – I'm not judging!