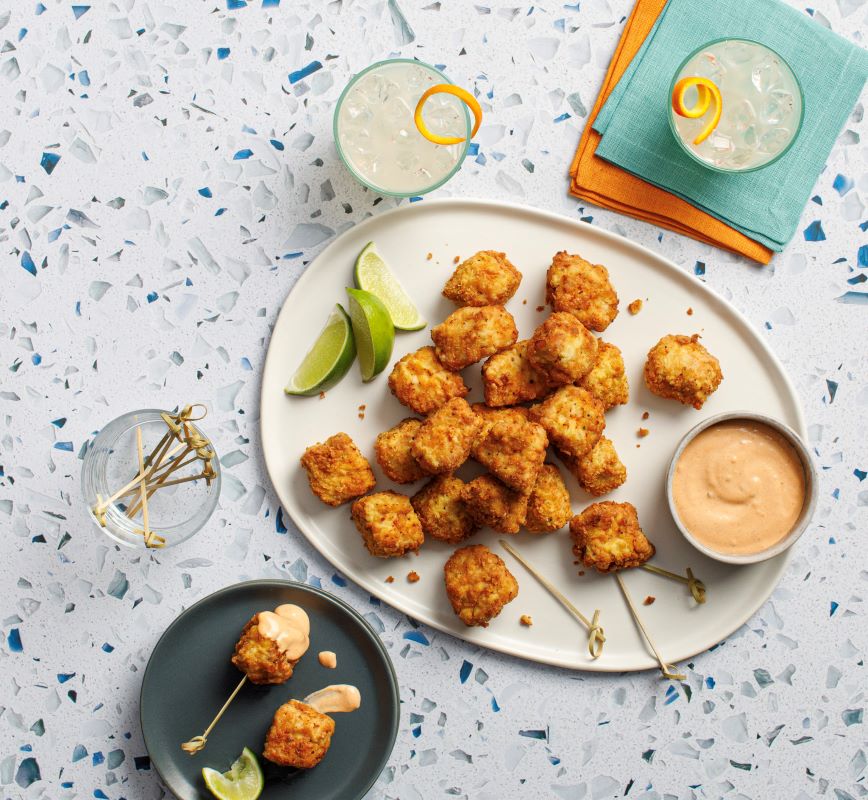 Deep-fried Pork Nuggets with Spicy Chipotle Dipping Sauce
Source: The Shed Barbeque and Blues Joint™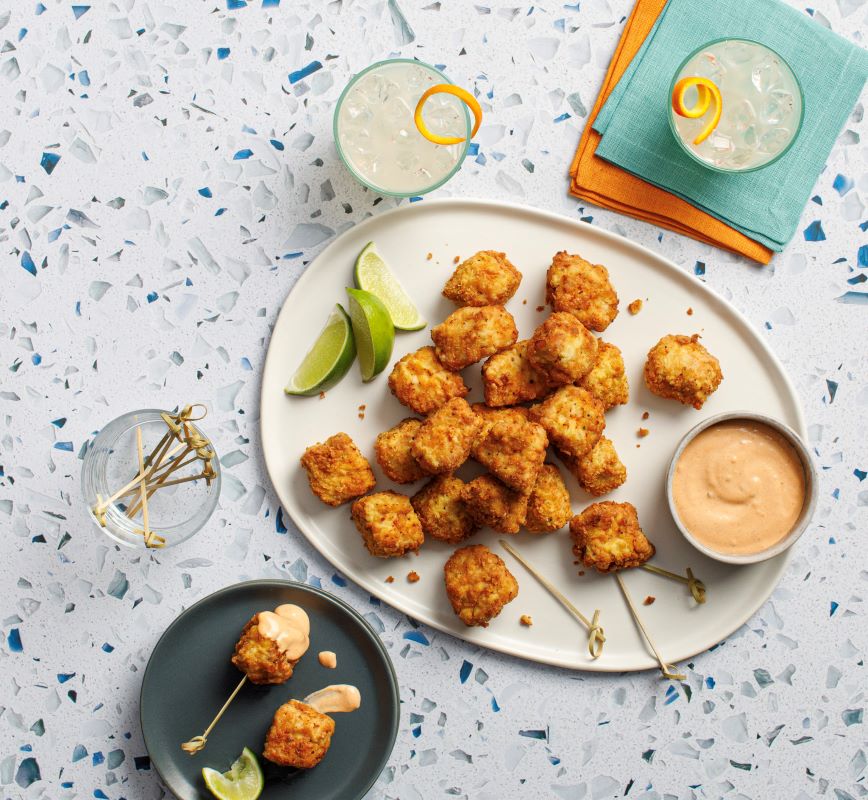 1 Prairie Fresh® pork sirloin
1/2 cup Creole mustard *substitute: yellow mustard
2 cups all-purpose flour
2 tablespoon garlic salt
1 tablespoon salt
1 1/2 tablespoons black pepper
6 tablespoons sugar
1 tablespoon ground coriander
Frying oil

For the dipping sauce:
1 small can chipotle peppers in Adobo sauce
1 1/2 cups sour cream
3 tablespoons agave *substitute: honey
1 orange
2 limes
1 bunch cilantro
To make the dipping sauce, in a food processor or blender, blend together 2-3 chipotle peppers, sour cream, juice of 1 orange, and agave. To increase heat, add additional chipotle peppers. Place sauce in refrigerator until ready to use.
To make the fried pork nuggets, trim away all excess fat and silver skin from pork sirloin. Cut into 1-to-1 1/2 inch cubes.
Place pork nuggets in a bowl and lightly coat all pieces with Creole mustard. Set aside.
In a separate bowl, mix flour, garlic salt, pepper, sugar, and ground coriander. Taste. Add additional salt and pepper to taste.
In a large pot or fryer, heat frying oil to 350 degrees F.
Roll pork nuggets liberally with seasoned flour. Fry 8-10 nuggets per batch, depending on size of the pot.
Fry for 2-3 minutes per batch or until golden brown and the internal temperature reaches 145-150 degrees F.
Serve with spicy chipotle dipping sauce, fresh cilantro, and a squeeze of fresh lime, or use your favorite barbecue or dipping sauce.