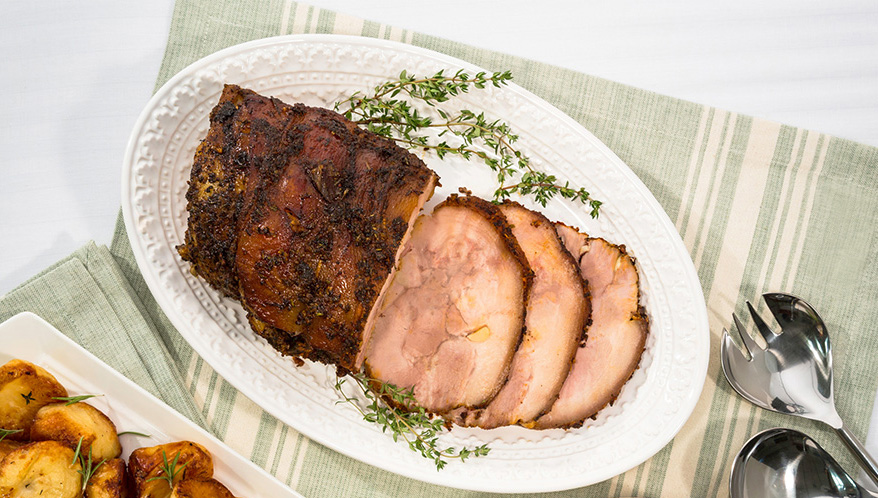 Pork Shoulder with Wine Gravy
Source: The National Pork Board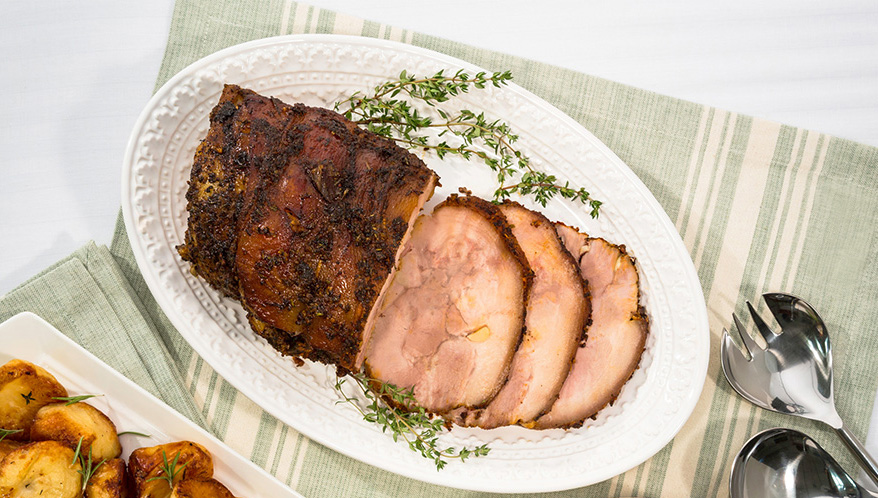 6 pounds Prairie Fresh® boneless pork shoulder roast
10 cloves garlic (peeled and slivered into fourths)
1 tablespoon fresh rosemary
1 teaspoon dried rosemary
1 tablespoon fresh thyme
1 tsp ground thyme
1 ½ teaspoon smoked paprika
2 teaspoons fine sea salt
1 teaspoon black pepper (freshly ground)
½ cup ground mustard (stone)
5 cups white wine (divided, such as Chardonnay or Pino Grigio)
For the gravy:
¼ cup unsalted butter
¼ cup flour
1 tablespoon honey
Pat-dry the pork shoulder well with paper towels. Place it in a large roasting pan with high sides. With a sharp paring knife, cut 40 (1-inch deep) incisions all over the pork. Insert a garlic sliver into each one (use your finger to make the holes large and deep enough to insert the garlic).
In a medium bowl, combine the rosemary, thyme, paprika, salt, pepper, and mustard; stir to form a thick paste. Coat the top and sides of the shoulder with this paste. Tent aluminum foil over the pork, making sure not to let the foil touch the meat; set aside at room temperature for 30 minutes (or make ahead and keep refrigerated up to 12 hours; bring back to room temperature for 30 minutes before roasting).
Preheat the oven to 425 F. Pour 3 cups of the wine around the pork and cover again with the tented foil. Roast for 1 hour. Uncover and add 2 more cups of wine; cover again and continue roasting for 1 hour or until the internal temperature reaches 170 F. Remove roast from the oven and let it stand for 20 minutes; transfer roast to large cutting board.
While it rests, strain the juices through a sieve, pressing the solids against the sieve to remove all of the juices; then, discard the solids. Let the juices sit for five minutes; then remove the layer of fat that rises to the top and discard. Keep the juices warm (you will have about 2 to 2 ½ cups; if you don't have enough, you can thin it out with a bit of broth or water. If not making gravy, discard the juices).
To make the gravy: In a medium pot set over medium heat, melt the butter; add the flour and stir together well. Continue cooking and stirring it for 2-3 minutes or until it is lightly golden color. Add 2 cups of the warm juices at once and stir vigorously. Bring the gravy to a simmer over medium heat, while stirring constantly, until it thickens, about 3 minutes. Remove gravy from the heat; stir in the honey, and season with salt and pepper to taste. Keep the gravy warm over very low heat.
Slice the pork thinly and transfer it to a serving platter; serve with gravy on the side.