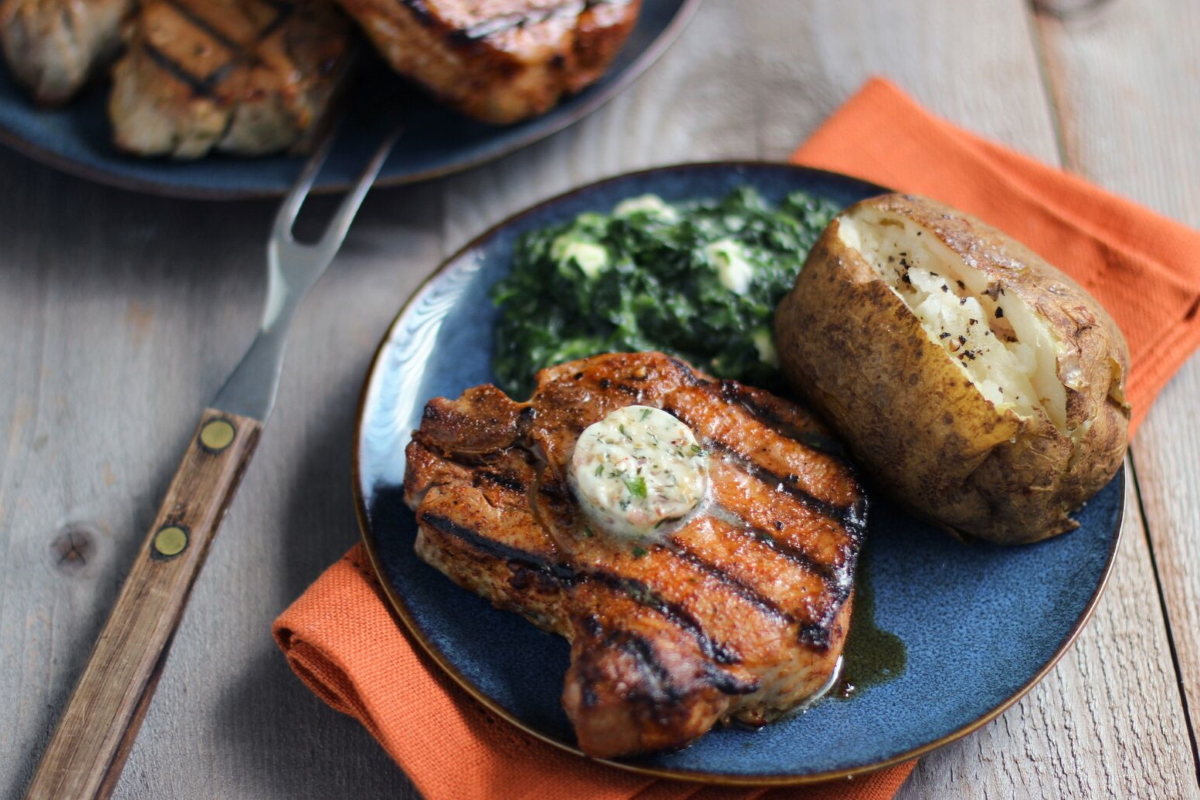 Dry Rubbed Porterhouse Pork Chops with Steakhouse Butter
Source: National Pork Board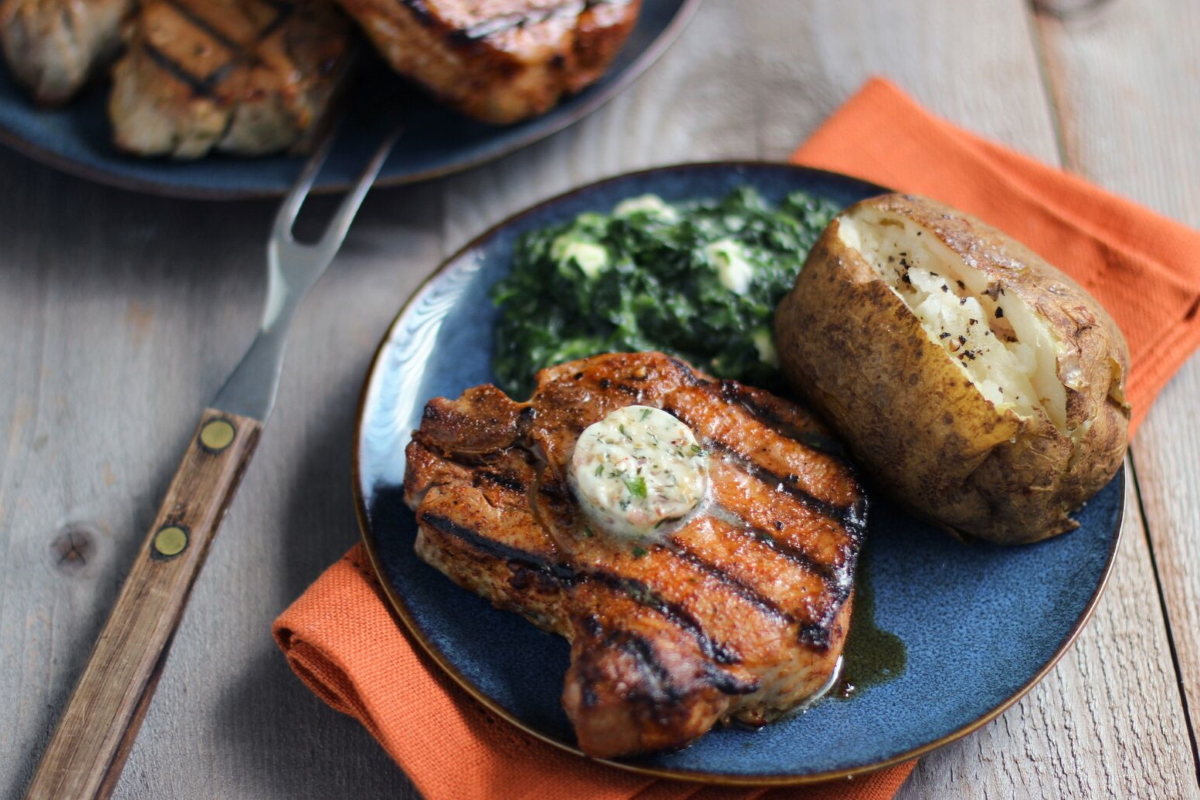 6 Prairie Fresh® porterhouse (bone-in loin) pork chops
2 1/2 teaspoons kosher salt
2 teaspoons raw or turbinado sugar
1 teaspoon chili powder
1/2 teaspoon ground coriander
1/2 teaspoon granulated garlic
1/2 teaspoon black pepper
1/2 teaspoon granulated onion
8 tablespoons butter, (1 stick) room temperature, divided
1/4 cup shallots, finely chopped
1 clove garlic
1 tablespoon fresh parsley, chopped
1 1/2 teaspoons fresh lemon juice
1/4 teaspoon white pepper
1/4 teaspoon Worcestershire sauce
Pinch dried thyme
At least two hours before you plan to grill, make the butter: In a medium skillet over medium heat, melt 2 tablespoons of the butter. Add the shallots, garlic, and salt and cook, stirring occasionally, until the shallot is soft, 3 to 5 minutes. Transfer to a medium bowl and let cool 15 minutes.

Add the remaining 6 tablespoons of butter to the bowl, along with the parsley, lemon juice, white pepper, Worcestershire, and thyme. Use a fork to mash and stir the mixture until well blended.

Arrange an approximately 12x12-inch piece of wax paper on a work surface. Place the butter mixture in the center, arranging it into an 8-inch-long log shape. Use the wax paper to roll the butter up, twisting the ends of the paper tightly to form an even, round log of butter. Set aside in the refrigerator until firm, about 1 hour. (The butter can be made up to 2 days in advance.)

To make the rub: In a small bowl, combine the salt, sugar, chili powder, coriander, garlic, black pepper, and onion. Sprinkle the rub liberally on both sides of the chops (you might not use it all) and let rest 15 minutes.

Prepare a grill to medium-high heat. Grill the chops until golden brown and the internal temperature reaches between 145 degrees F. (medium rare) and 160 degrees F. (medium), 4 to 5 minutes per side. Remove from the grill and let rest 3 minutes.

Unwrap the butter and cut it into 12 slices. Serve each pork chop with 1 or 2 slices on top.