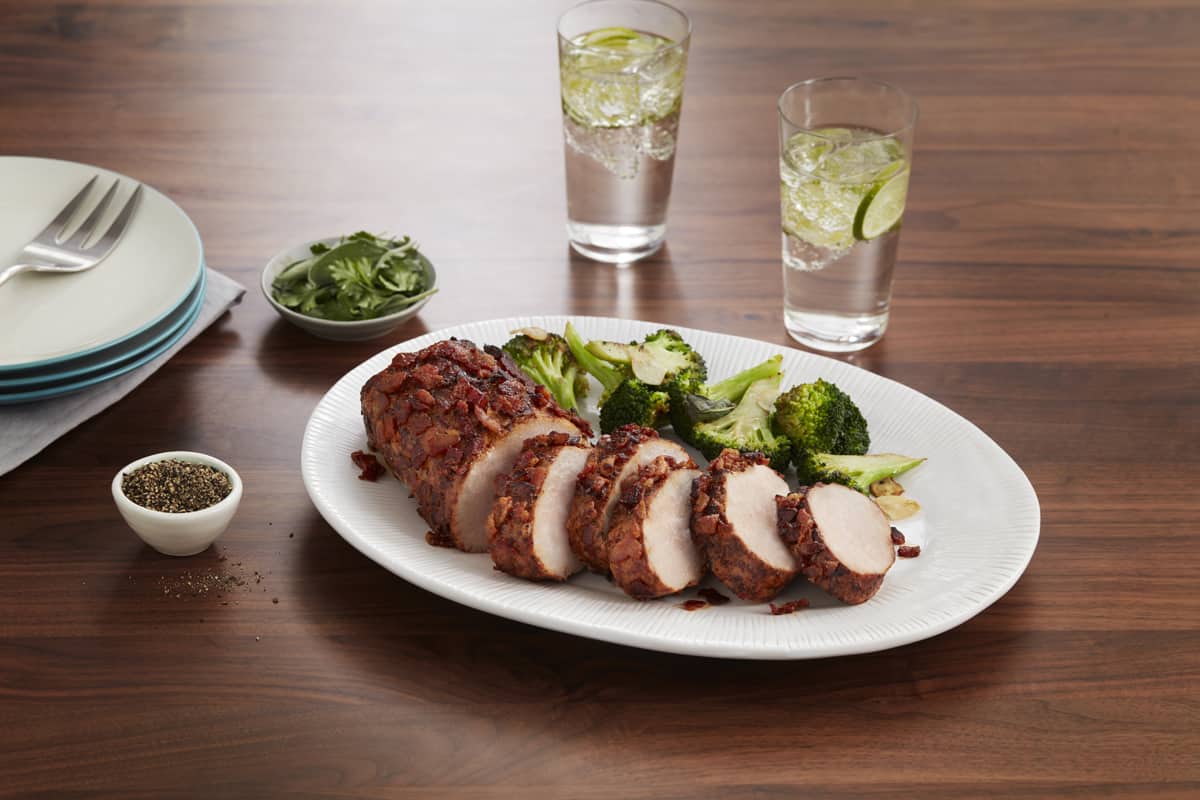 Cook In Bag Pork Loin Filet With Applewood Bacon
<ul><li><span>Convenient, no mess meal solutions</span></li><li><span>Filets cook in 35 minutes</span></li><li><span>Guaranteed perfectly cooked pork</span></li><li><span>Requires no direct contact with raw meat<br /></span></li></ul><p style="margin-bottom:0in;margin-bottom:.0001pt;line-height:normal"></p>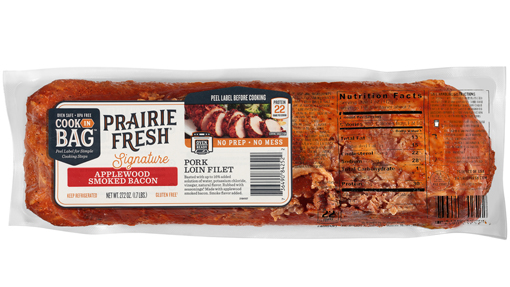 NUTRITION FACTS & ALLERGEN INFO
Nutrition Facts
Serving Size 4 oz (112 g)
Serving Per Container 7
---
Amount Per Serving
Calories 180
Calories from Fat 80
---
% Daily Value*

Total Fat 9 g   13 %

Total Carbohydrate 3 g
1 %
Protein 22 g

---
Vitamin A 4 %
·
Vitamin C 0 %
* Percent Daily Values are based on a 2000 calorie diet. Your Daily Values may be higher or lower depending on your calories needs.
Ingredients
Seasonings: applewoood smoked bacon (cured with water, salt, sugar, smoke flavoring, sodium phosphates, sodium nitrite. May also contain sodium ascorbate, sodium erythorbate, flavoring, potassium chloride, dextrose), seasonings (sugar, natural bacon flavor (maltodextrin, autolyzed yeast extract, natural flavor (contains natural smoke flavor), sugar, salt), ground chilies, salt, spices, granulated garlic, granulated onion).

Pre-seasoned flavors and easy prep deliver the ultimate convenience. These cuts cook right in the bag in three easy steps for a quick and easy dinner. Not to mention no mess.

Step 1
Preheat oven to 400° F. DO NOT MICROWAVE.
---


Step 2
Remove all labels from bag and place the entire bag, top side up, on a baking sheet. Cut a small opening where marked on top of bag.
---

Step 3
Bake according to timing instructions on the package.