Cook In Bag Pork Loin Backribs, Rubbed With Hickory Smoked BBQ Seasonings
Putting pork ribs back on your menu has never been so easy. These ribs cook in the bag and are guaranteed to be tender and delicious.<ul><li>Prepare from fresh or frozen in only 1 hour for loin backribs<li>Allows pork ribs to be added easily to menu without hours of preplanning and preparation.<li>Regardless of skill level, all kitchen staff can prepare this product with guaranteed consistent tender and delicious pork ribs.<li>Pork ribs with the highest degree of flavor, tenderness and juiciness will please dining guests for repeat business. Freshly cooked flavor when rethermed, without warmed-over notes, providing less product waste.<li>Does not require additional investment in smokers or steamers and allows maximization of existing oven equipment.<li>Serve without any extra labor, or add unique culinary flair by seasoning and topping off on the grill or adding your favorite barbecue sauce.<li>Rubbed with hickory smoked BBQ seasonings<li>Frozen</ul>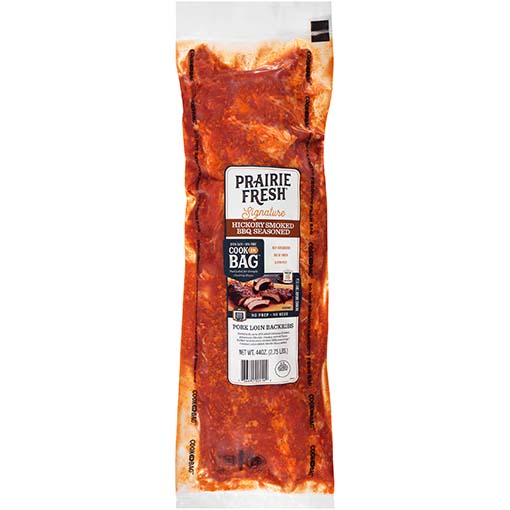 Product Specs
Product Code: 812
GTIN: 90736490008129
| | |
| --- | --- |
| Case Length (in): 21.63 | Case Gross Weight (lb): 31 |
| Case Width (in): 10.63 | Pieces/Bag: 1 |
| Case Height (in): 6.75 | Bags/Case: 10 |
| Cube: 0.9 | Product of: United States (US) |
| Case Tare Weight (lb): 1.59 | Catch/Random Weight: Yes |
| Case Net Weight (lb): 30 | |
NUTRITION FACTS & ALLERGEN INFO
Nutrition Facts
Serving Size 4 oz. (112 g)
Serving Per Container Varied
---
Amount Per Serving
Calories 230
Calories from Fat 160
---
% Daily Value*

Total Fat 17 g   27 %

Total Carbohydrate 3 g
1 %
Protein 16 g

---
Vitamin A 4 %
·
Vitamin C 2 %
* Percent Daily Values are based on a 2000 calorie diet. Your Daily Values may be higher or lower depending on your calories needs.
Ingredients
BASTED WITH UP TO 16% ADDED SOLUTION OF WATER, POTASSIUM CHLORIDE, VINEGAR, NATURAL FLAVOR. *SEASONING INGREDIENTS: CHILI PEPPER, SUGAR, SALT, BROWN SUGAR, MOLASSES POWDER (MOLASSES AND MALTODEXTRIN), TOMATO POWDER, DEHYDRATED GARLIC, DEHYDRATED ONION, NATURAL HICKORY SMOKE FLAVOR WORCESTERSHIRE SAUCE [(VINEGAR, MOLASSES, CORN SYRUP, SALT, CARAMEL COLOR, GARLIC POWDER, SUCROSE, SPICES, TAMARIND, NATURAL FLAVOR AND SULFITING AGENTS) AND MALTODEXTRIN], BLACK PEPPER, VINEGAR POWDER (MALTODEXTRIN, VINEGAR AND FOOD STARCH-MODIFIED), RED PEPPER.
Interested in learning more about food service?